You skin mirrors your inner health if it's dry or oily from the outside you best believe that the reason may very well be undernourishment or some other health issue. If you'll be healthy from within, you'll look flawless on the surface as well! Dry, flaky, and itchy skin is unpleasant as well as irritating - trust me, I have crazy dry skin, so I know! Dry skin is common (takes a terrible turn during dry weathers) and can be caused by various reasons such as taking hot showers, sun exposure, change in weather, harsh chemicals in soaps, malnutrition, dehydration, certain medication, medical conditions such as diabetes and hypothyroidism.
There are much more people like me who have naturally dry skin and harsh dry weather like winters can make our skin even worse. But quite often, even people who generally have oily skin may feel their skin rough, dry and itchy. The best way to resolve this problem is by simple home remedies. Homemade face packs are easy to prepare with common items which you can find in your kitchen, refrigerators, cabinets, and kitchen gardens. These face packs will help you in fixing your dry skin problem along with giving your skin a natural glow and keeping it healthy. So go ahead and pamper your dry, rough, and dull skin with these homemade face packs.
Papaya + Honey Face Pack
Papaya is a sweet, juicy and delicious fruit and is a great source of flavonoids, vitamin B, pantothenic acid, antioxidants, and minerals (such as potassium and magnesium) that have immense benefits for your skin. Vitamin A present in papaya nourishes dry and rough skin and gives it a rejuvenating glow, whereas potassium assists in hydrating skin cells and restoring lost moisture back to your skin. Regular application of papaya on your skin also prevents skin from premature aging, wrinkles and age spots.
The advantages of honey for skin and hair need no emphasis. It acts as an amazing natural moisturizer that increases your skin's capacity to retain moisture along with exfoliating your skin to remove dead cells and improves the skin tone.
Here's what you've got to do - Take half a cup of ripe papaya and mash it nicely, keep doing so till you get a fine smooth paste. Now, add one tablespoon honey to the mashed papaya paste and mix them well. Apply the paste on your face (make sure that you wash your face first) and leave it on for about twenty minutes to half an hour. Let all the benefits of honey and papaya go deep into your skin and nourish it from within. Wash off the pack after half an hour with normal water. For glowing and smooth skin, try to apply this face pack at least three to four times a week.
Milk + Almond Face Pack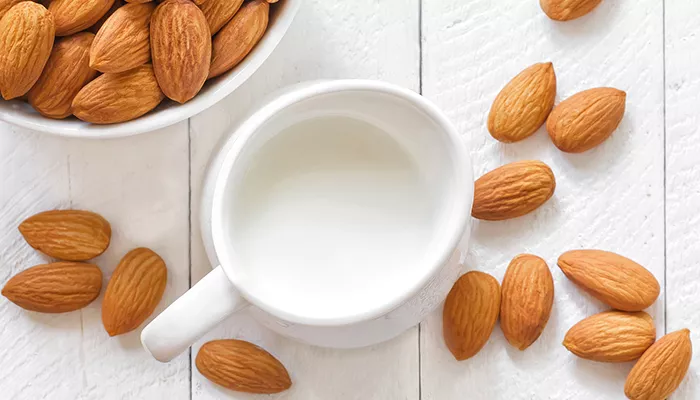 Milk is out and out the best natural moisturizer, loaded with vitamin B, antioxidants, proteins and minerals such as calcium, magnesium, potassium, and selenium. In addition to all this, it's also a great natural source of Biotin. Biotin (a vitamin of Vitamin B-complex) provides assistance in healing dry & cracked skin. The various nutrients in milk revitalize your damaged skin cells, reinstates moisture back to your skin to prevent flaking skin and dryness. The presence of potassium in milk helps in soothing the itchiness of dry skin and rehydrates it.
Almond is a good source of vitamin E, proteins, and antioxidants - these are the basic requirements for maintaining a healthy and well-nourished skin. It is also a pretty effective anti-aging agent it prevents the untimely appearance of fine lines, wrinkles, and age spots.
Here's what you've got to do - You need to pre-soak the about eight to ten almonds about an hour or two before you start making the face pack. You need the almonds to turn a bit soft so that they can be grounded into a paste.
Once you've grounded the almonds into a thick paste, add a bit of milk to it (around two tablespoons would do). Now, mix them well and apply it on your face and neck. Massage the paste, in soft gentle circular motion for two to three minutes. Let it stay on for some twenty to thirty minutes and wash it off with normal water (you can also wash it off with cold water). For healthy, soft and supple skin, you must apply this face pack at least twice a week.
Banana + Olive Oil Face Pack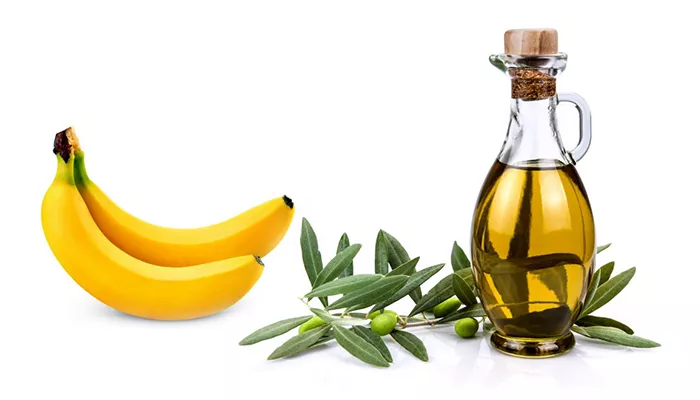 Bananas are great for oily as well as dry skin! Isn't that something? Being a rich source of phytochemicals, antioxidants, and moisture, bananas act as a nourishing natural remedy to treat rough, dry, and dull skin. They heal withered skin and revitalize the damaged skin cells (which cause flaking) along with promoting cell generation in order to improve your skin tone and add a natural glow to it. It is packed with potassium which is one of the major essential minerals that moisturize dehydrated skin.
Olive oil has been used for its many benefits since ancient times. It isn't just beneficial for your skin, it offers plenty of advantages for your hair as well. It can effectively soothe and condition dry skin all over your body. To deal with really dry skin, when you apply moisturizer, try dabbing a thin layer of extra virgin olive oil under it. It serves as a perfect moisturizer for dry skin, helps in regenerating skin tissue making it soft and youthful.
Here's what you've got to do - Take a ripe banana and mash it in a bowl, add one tablespoon of olive oil to it. Blend them well together and apply on your face and neck. Let it sit on your skin for twenty to thirty minutes. Take a damp cotton ball and wipe it all off of your skin, then rinse your face with cold water.
To get naturally soft, blemish-free, glowing skin you must apply this face mask at least twice a week. If you have dry skin all over your body rub or lightly massage some olive oil over your entire body or specific areas that are prone to dryness (legs, arms, tummy) about half an hour before hopping in the shower. After showering, apply a thin layer of moisturizer.
Yogurt + Rosewater Face Pack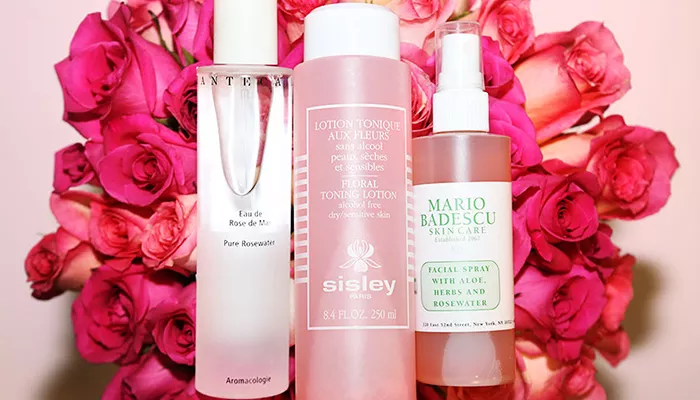 Yogurt is a good source of multi-vitamins and lactic acid which improves the complexion and adds a healthy glow to the skin. It revives dull skin (which is often a consequence of dry skin) by functioning as a natural deep moisturizer. The presence of lactic acid in yogurt helps in restoring moisture, exfoliating and hydrating irritable, rough and dry skin. Time multiple nutrients present in yogurt give it antioxidant and anti-inflammatory properties, which are useful in revoking any damage caused by oxidative stress and free radicals. It, therefore, acts as a natural remedy for age spots, pigmentation, fine lines, wrinkles, and pigmentation.
Rosewater, on the other hand, acts as a natural cleanser - removes oil, impurities, dirt, sebum and dead cells from your skin. It also gives a helping hand to yogurt in boosting hydration and moisturizing your skin.
Here's what you've got to do - Take two tablespoons of yogurt in a bowl (make sure it's not flavored) and whisk it well so that you get a smooth texture. Add a tablespoon of rosewater to it and mix it well. Apply the mix on your face and neck and let it sit for twenty or thirty minutes. Wash it off with normal water. And yet again, you need to apply this pack at least twice a week to reap the benefits. After regular application, you'll notice smoother, brighter and softer skin with balanced and even skin tone.
Aloe Vera + Cucumber Face Pack
Aloe Vera is extremely useful for skin and hair. It's beneficial for all skin types, not just dry skin. The perks of Aloe gel for dry skin include hydrating and nourishing the skin and improving your skin's capacity to retain moisture. It prevents infections and itching and rejuvenates cracked skin making it softer and smoother.
Cucumbers have been in use as a dry skin remedy for ages, and they're also effective in the treatment of various skin problems. It's high in Vitamins A & C - both of which are essential for taking care of dry skin. Other nutrients such as iron, magnesium, folate, potassium, molybdenum and silica are also present in cucumbers. While all of these minerals are potent skin care ingredients, silica is one mineral that makes cucumbers extremely beneficial - it is an essential component of the connective tissue - the elastin, collagen, and reticular fibers that keep your skin firm and give it body and shape. Cucumber is 95% water so it comes as no surprise that it is great for maintaining skin's hydration and moisture, making dry skin soft, smooth and supple.
Here's what you've got to do - Cut open an Aloe Vera leaf and scrape the gel out with the help of a tablespoon. You should have about one teaspoonful of Aloe gel. Grate a little bit of cucumber (about a tablespoon). Now mix the aloe gel and cucumber pulp together and apply the mix on your face and neck. Let it sit on your skin for fifteen to twenty minutes, wash it off with water. Apply this pack at least twice a week to get well hydrated and flawlessly glowing skin.
Saffron + Milk Cream Face Serum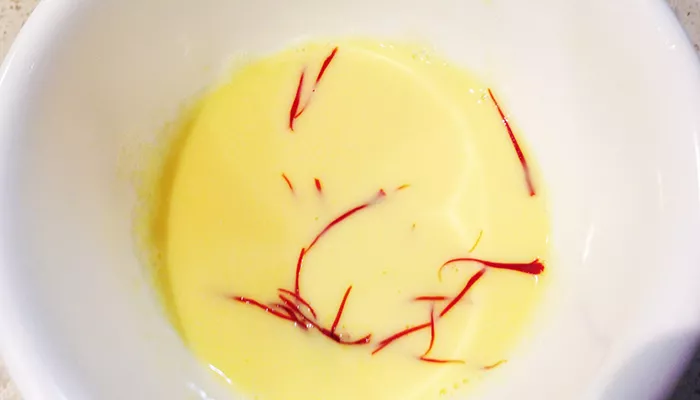 This slightly expensive ayurvedic spice has been used since ancient times as an effective beauty ingredient for nourishing the skin. The advantages of saffron (or kesar) for skin are literally time tested - it helps in boosting your natural glow by improving your skin tone and making it more lively and supple. Saffron also assists in reducing dryness and dullness of the skin and gives it a graceful appearance.
The presence of lactic acid in milk cream (or malai) helps in exfoliating dry skin. The naturally soothing effect of milk cream also helps in preserving your skin's delicate pH levels. Along with all these excellent benefits, milk cream is also an awesome moisturizer, brings back life to the dull and lifeless skin.
Here's what you've got to do - Take two tablespoons of milk cream in a bowl and add four to five strands of saffron. Whisk it a little and leave it as it is for about ten or fifteen minutes. After leaving it aside for ten minutes, mix it again and apply on your face and neck. Let it stay for about twenty minutes, then wipe it off with a cotton ball and then splash some cold water on your skin (face and neck). Perform this routine on alternate days to see amazing effects on your skin. You'll notice a glow on your face, the texture of your skin will improve, and your skin will become more soft and smooth.
Gram Flour + Curd Face Mask
Gram flour (better known as Besan) acts as a natural skin exfoliator which helps in getting rid of skin tan naturally. It also lends a helping hand in cleansing your face and removing impurities, dead cells, and dirt that clogs the pores and causes pimples. It is used in various face packs and face masks thanks to its awesome benefits for the skin! When gram flour is mixed with curd it provides a rejuvenating and moisturizing boost to the dry and dull skin; makes the skin healthy, improves skin tone and adds a flawless glow to it.
Here's what you've got to do - Take two tablespoons of Gram flour (besan) in a bowl and add one tablespoon curd to it. Mix them well till you get a smooth paste-like texture and apply the mask on your face and neck. Let the mask dry off, it should take about twenty to thirty minutes. Wash it off with cold water and apply a thin layer of moisturizer. Apply this face mask for at least two to three times a week to properly exfoliate your skin, remove dirt, dead skin cells, impurities, and an improved skin tone.