Essential oils
Add a two to three tiny drops of these essential oils to your regular shampoo and watch them work their magic on your damaged hair.
Lavender oil will come to your scalp's rescue if you have hair fall, or itchy scalp, or nits. It is highly beneficial for people who suffer from an autoimmune disease known as alopecia. In this, your body rejects it's very own hair follicles. Lavender essential oil makes your hair softer, it basically serves as a conditioner. Its effects get enhances when paired with rosemary essential oil. Both of these essential oils are can do wonders for your hair. Rosemary essential oil is incredibly beneficial for your hair. You can say good-bye to dandruff, it also stimulates hair growth.
Add 2 drops of Tea tree essential oil to your regular organic or herbal shampoo. Tea tree oil is gentle and completely natural that means it contains no harmful chemicals. That is why it is used for hair and scalp treatment. It helps in unclogging pores that get blocked because of regular use of shampoos and hair products that contain fillers and polymers. It also helps you in getting rid of the dead skin which hinders the growth of your hair. Be it split ends, fungal infection, dandruff, itchy and other scalp related concerns, Tea Tree Oil will give your scalp and hair a healthy boost.
Apple Cider Vinegar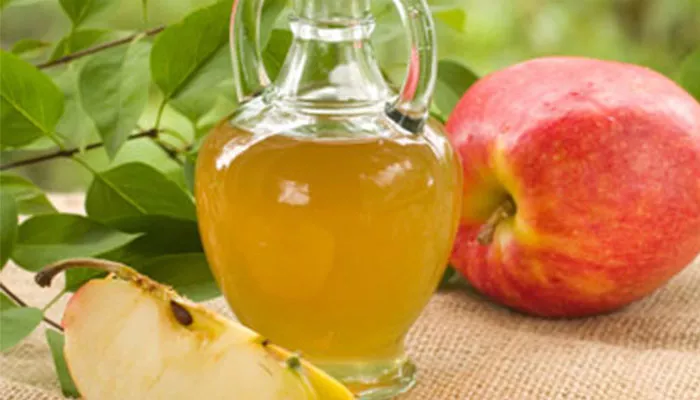 Nutrients that are present in Apple Cider Vinegar (such as potassium) are great for the growth of your hair. It also helps to smooth your hair, improving its texture and reducing the probability of split ends.
Apple cider vinegar also helps in repairing damaged hair by restoring your hair's protective layer. This protective layer on your hair is damaged by excess shampooing (using shampoos that are made of many harmful chemical compounds), UV rays, and air pollutants.
Finally, apple cider vinegar helps in eliminating all the nasty damaging chemicals and dead cells from your scalp. This allows the scalp to breathe naturally and opens the pores of your skin. A healthy scalp prevents dandruff from building up. ACV also has antibacterial and antifungal qualities that eliminate any sign of itchiness on your scalp.
Olive Oil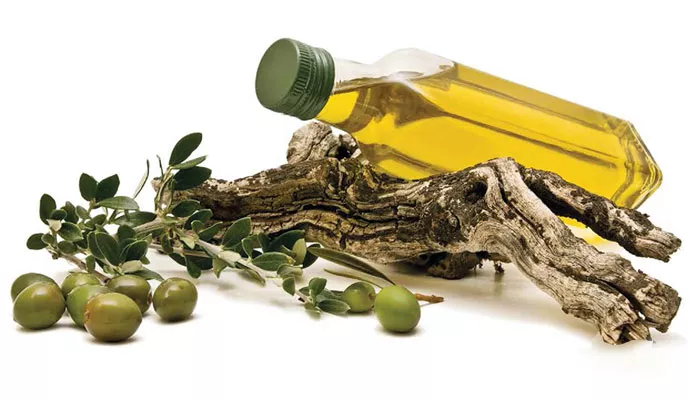 People have been using olive oil in many cultures for hair care for thousands of years. It adds shine, softness, resilience and improves the texture of your hair. It contains substances such as oleic acid, palmitic acid, and squalene which are known as emollients which basically possess hair softening qualities. Emollients are also present in most shampoos and conditioners, but those are created in the labs and are mixed along with other chemicals. Whereas Olive oil naturally contains emollients.
If you have thick and dry hair or your hair have experienced damage due to chemical treatments (rebonding or perm) then olive oil would prove to be the perfect choice for you.
Olive oil can also help smooth the burned or broken ends of your hair. Apply on the last two inches of the strands of your hair. Although you're just treating the ends, you should keep your hair pinned up so the olive oil doesn't mess up your clothes. To condition your hair all over, start from the scalp and massage the oil, spread it evenly till the tips of your hair.
Aloe Vera
Aloe Vera has proven to be an excellent recourse for promoting the growth of hair naturally. Aloe Vera gel contains proteolytic enzymes which repair dead skin cells on your scalp. It is an ultimate care package for your hair's health. Aloe Vera is also an amazing conditioner it leaves your hair smooth and shiny. Other uses of aloe vera for hair apart from hair growth include reduced dandruff, prevents itching on the scalp, and conditions your hair.
Aloe Vera has a chemical make- up quite similar to that of keratin (the primary protein of hair it consists of amino acids, carbon, oxygen and small amounts of hydrogen, sulfur, and nitrogen). It revitalizes your hair with its innate nutrients, providing it with more elasticity and putting a stop to breakage.
You can apply Aloe Vera gel on your entire scalp and hair to treat hair loss. Shampoos that contain Aloe Vera extracts improve the blood circulation on your scalp and keep you away from mental strain. In fact, Aloe Vera has anti-inflammatory properties, which means if you use Aloe Vera shampoo regularly you will surely prevent the unwanted problem of premature hair loss.
Jojoba Oil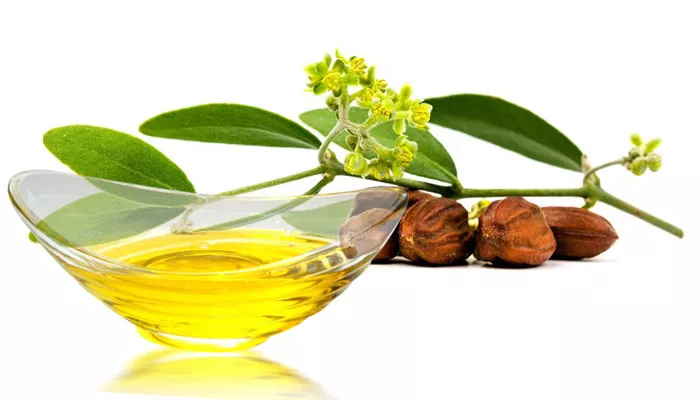 The best thing about Jojoba Oil is that it is full of almost all of the essential vitamins and minerals needed for healthy hair as well as skin. It contains vitamin E, B complex, zinc, copper, selenium, chromium, and iodine.
To undo the damage caused by chemically loaded hair products and hot straightening or curling irons, you can apply a deep conditioning of hair with jojoba oil. It is one of the best oils to use when struggling with dry hair, dandruff, and hair loss. Jojoba oil acts as a great organic balancer. It can be used by people with all types of hair, particularly good for dry hair, split ends and hair that is prone to tangling. Jojoba oil has properties that are similar to hair serum, therefore, it also helps to keep your hair tangles free and well moisturized.
Coconut Oil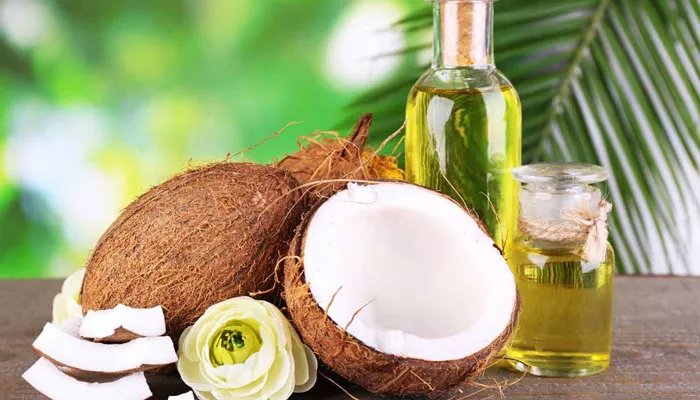 This could easily be the most common hair oil that we Indians use, and why not? Coconut oil is packed with antioxidants, has antiviral, antifungal, and antibacterial properties. It improves your scalp's health, fights fungus and infections, supports hair growth, and adds volume and shine to your hair without the common harmful chemicals.
Most of our hair products include some amount of coconut oil or other oils but that doesn't really make any difference. The amount of oil present in such products becomes insignificant to the amount your scalp and hair need when it is damaged. Coconut oil is the only oil that can reduce protein loss in hair which leads to dryness and breakage.
It acts as a great conditioner for dry and brittle hair. If you have thin and lifeless hair, it can make your hair grow thicker and shinier. Coconut oil can also be used to treat dandruff and it can prevent the damage caused by hair styling tools! Coconut oil can also aid in managing the frizz by penetrating into the curls.
Honey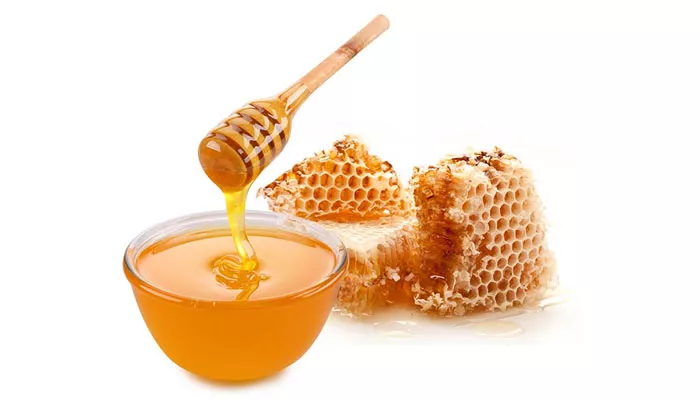 Honey is a natural humectant, it attracts moisture. It is also packed with nutrients and antioxidants to feed your hair follicles, encouraging hair growth. But honey needs a medium to assist it in spreading around your hair. Trust me, you don't want to end up with just a sticky mess on your hair. The great thing about this is that you can mix honey with any of the above-mentioned oils or apple cider vinegar, it will easily blend with them. In fact, adding honey will prove to be an added benefit to other natural ingredients because then you'll have the goodness of the two of them working together to make your damaged hair come back to life.
I'm positive that you will find at least one ingredient that will mix with honey in your home. But if you cannot find anything, don't fret, you can simply dilute honey in a bit of water and apply on your scalp and hair.
Castor oil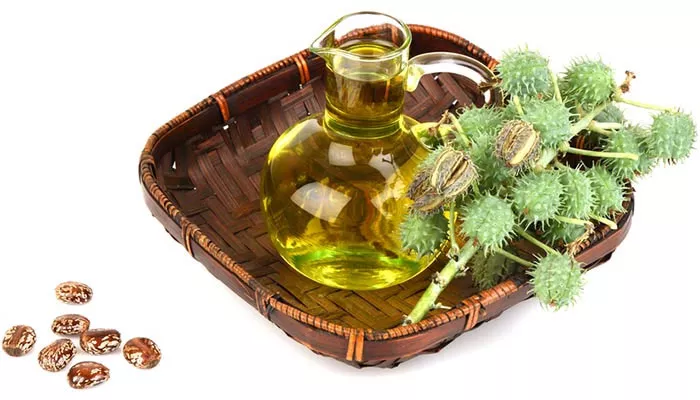 Castor oil has innate antifungal and antibacterial properties and is high in Vitamin E, proteins, minerals, and Omega 6 & 9 beneficial fatty acids. It's rich in ricinoleic acid that makes it beneficial to the skin (your scalp) and hair.
Castor oil can be used on your scalp to help both prevent and treat hair loss and it is quite effective at this doing so. Why? Because it's antibacterial and antifungal attributes make it a boon against folliculitis, scalp infections, and dandruff.
Ricinoleic acid is said to assist in balancing scalp's pH which can help replenish your scalp's natural oils and undo some of the damage caused by harsh chemical hair products. The antioxidants in castor oil also help in supporting the keratin in hair and help make your hair stronger, less frizzy and smoother.
Tea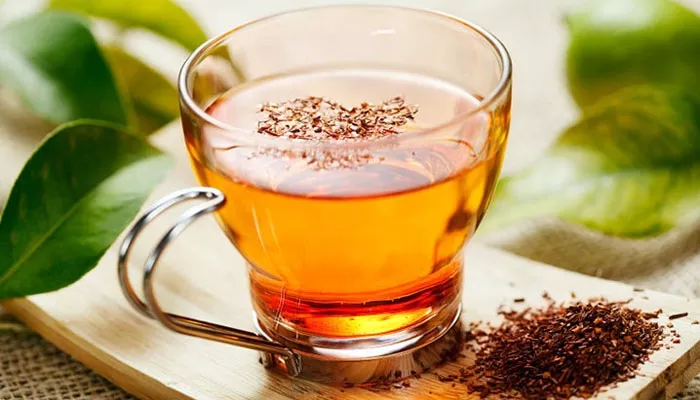 No kidding, you can also use tea to give your hair a natural sheen. Use warm, unsweetened tea (either freshly brewed or instant) as a final rinse after your normal shampoo routine. Tea can actually enhance your hair color, so make sure to use the kind of tea that works with your hair color.
If you have blond hair you should use chamomile tea rinse
If you have black or dark brown hair you should use black tea.
Brunettes should use black tea to enhance shine and enrich the color.
Go the Extra Mile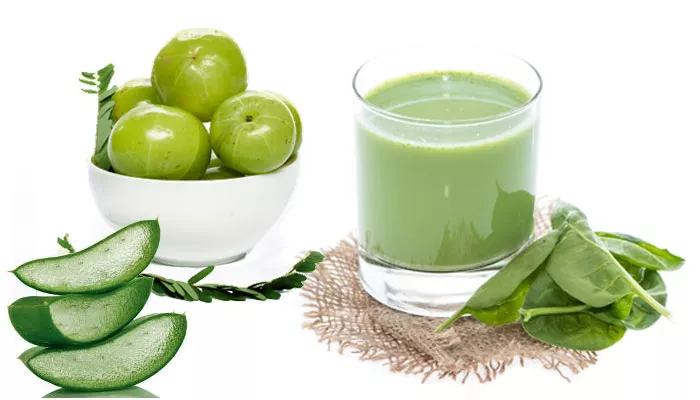 If your hair is damaged because of any kind of nutritional deficiency, and you can't figure out how to add these essential nutrients to your daily diet you could add one or all of these yummy juices to your daily diet. These amazing juices can do wonders for your hair.
Aloe Vera Juice
Aloe Vera juice helps to get rid of itchy scalp and dandruff. It prevents the loss of hair. The rich vitamins which are present in Aloe Vera juice help in making your hair stronger and less prone to damage due to breakage. Aloe Vera juice is also beneficial in moisturizing and nourishing the scalp. It is one of the best juices for hair growth.
Spinach Juice
Spinach is loaded with various kinds of vitamin and minerals; it is also rich in iron. Itchy scalp and thin mane can be cured by drinking spinach juice. It is abundantly concentrated with vitamin B which helps in restoration of dry hair by bringing back the lustrous shine. Vitamin B also promotes hair growth. Magnesium is an important mineral present in spinach, deficiency of magnesium often leads to hair loss. Drinking spinach juice will maintain your magnesium levels reducing the threat of hair loss.
Amla Juice
The huge amount of antioxidants present in amla (or Gooseberry) helps in getting rid of the damaged cells that cause hair fall and also reduces the premature graying of hair. Amla juice also helps in regenerating pigmentation in hair making them thicker and darker. Amla also possesses anti-inflammatory, antibacterial, astringent and anti-microbial properties that help in preventing inflammatory scalp condition and keeps dandruff away.