Haven't we all admired the flawless skin of models walking down the ramp or even that girl in the neighbourhood? There is hardly any speck or a mark on their faces, and what do we have? A face full of marks, like the craters on the moon! Be it men, women or even children, one of the things that bother us the most is our face. Men hide those freckles by growing beards and moustaches, we women tend to hide our marks under a bed of makeup and concealers. Oh those expensive foundations and concealers, we spend a whole lot on them! But what if I tell you that you don't need to grow beards anymore, nor do you require spending a bomb on cosmetics? Yes, scroll down for some very easy and commonly used face packs to get your face party ready and bid adieu to those acne marks and freckles.
But first, let's have a quick look on the reasons for unhealthy skin.
Causes of unhealthy skin
Unhealthy eating habits
Doctors across the world advise us to limit our junk eating habits and switch to healthy and organic habits. Obesity is not the only reason; our junk eating and unnecessary munching put a huge impact on our skin as well. With an increase in outside food consumption, our face tends to get duller and lose the natural glow it used to show.
Water
My mum keeps reminding me every few hours to drink a glass of water, and I'm sure you also must have been asked to drink plenty of water by someone in your family. Water helps in keeping the body hydrated and flushes out the toxins. It is a given that plenty of water in the body, means a prettier you. So due to lack of water, not only does the toxins build up in our body, our face also feels the impact through dryness and lack of moisture.
Stress
There is not even a single body part that is excluded from the negative effects of high-level stress. Increased stress affects our skin by making it oily and leading to acne and pimples. Moreover, the skin feels dehydrated and loses the ability to repair itself. So, for the sake of your beauty, crush your stress right now!
Partying
Well, a party here and there helps to reduce the stress. But with more parties to attend, your intake of alcohol and cigarettes also ride, leading to dryness and premature ageing.
Makeup and cosmetics
Just to get that perfect Kareena Kapoor look, we tend to put a lot of makeup on our faces and even forget to remove it before sleeping. Not removing makeup leads to dryness and acne. Using the wrong or unsuitable skincare product can also leave you high and dry, with a dull face.
Get Set Go- 6 commonly used face pack ingredients!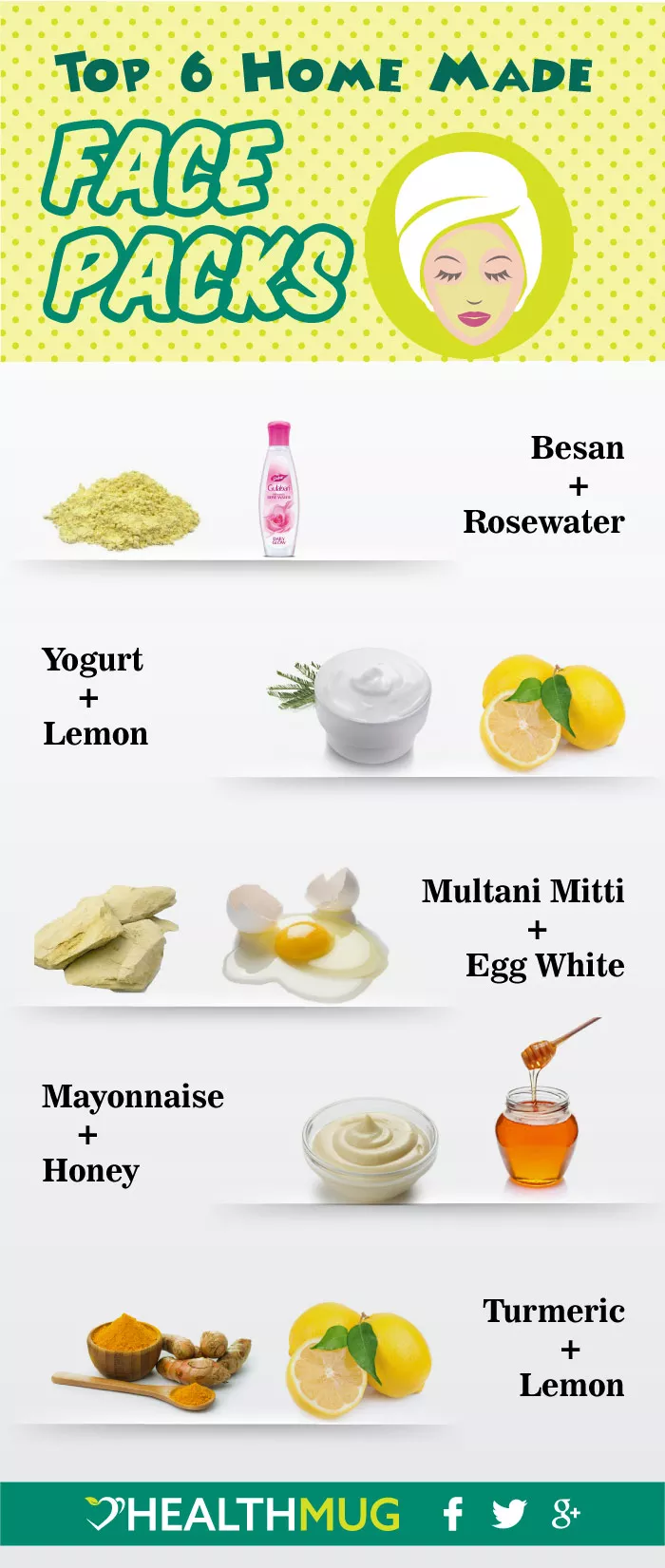 Enough of the causes of dull skin, now how to get rid it easily? Here, I give you very easy to make home-made packs to get that picture perfect glow!
Besan
The most commonly used kitchen ingredient for getting that perfect skin! There isn't any mother or grandmother who hasn't mentioned applying a face pack before any event, especially weddings. Remember when you saw your elder cousin applying besan on her face before her big day? Yes, besan is one beauty secret, which ironically isn't a secret! Applying besan reduces those blemishes and dark spots instantly; not to forget those acne marks that have been bothering you for long! Besan works best for faces as it removes the toxins from deep within, giving your skin the lost glow. Read on for easy besan packs for all skin types, which can be used on a daily basis!
Besan and Rosewater -Use it individually or together, besan and gulaab jal works wonder for your face! Mix besan and rosewater in 1:2 ratio and mix to get a smooth paste. Apply it on your face and let it stay for good 20-25 minutes and let these two ingredients do their work. Gently massage your face with water to rinse off the pack, and get that glow instantly! Besan helps in removing the toxins, and rosewater nourishes the skin giving the much needed glow. This pack works best for people with oily skin.

Besan and honey- Pimples worry us girls the most, especially the ones going through their teenage years. Say goodbye to acne and pimples with this easy pack. All you need is one tablespoon of honey and 2 tablespoons of besan. Heat the honey for a few seconds in a microwave and mix it with besan. Apply this paste and let it stay, wash off with warm water. This pack is like that SOS tablet, as honey dries out the pimples and along with besan, it clears the dirt from deep within.
Besan and cream- Major event/ function coming up? Not to worry, for this pack comes to your rescue! Gear up to get an instant glow at the last minute! All you need is 2 spoons of besan, one spoon of milk cream and few drops of lemon juice. Mix all these 3 ingredients to get a paste, and apply it. Don't forget to clean your face either with rose water or cleansing milk before applying this pack. Let it stay for 10 minutes and wash it off with cold water. Apply this pack at least thrice in a week to keep your face glowing with happiness!
NOTE: If you are allergic to any of the ingredients used, or does not suit your skin, please refrain from using it and look for its substitutes.
Yogurt
While yogurt can help a lot in making those delicious dahi ke kebabs, it can also be used to cleanse and give a glow to your skin. Yogurt is used best for getting rid of the tanning, but also cleanses and purifies the skin. Just not purifying, it also works as an anti-aging agent and reduces the age spot and fine lines on the face. Refresh your skin with yogurt now!
Yogurt is enough! - Grab some spoons of thick yogurt and gently massage your face for 10-15 minutes and rinse it off. This is the quickest of the face packs one can use, all you need is yogurt! It simply cleanses the skin, and removes all the dead cells on your face leaving you sparkly and shiny!
Yogurt and besan- Let's mash up the 2 ingredients discussed. Mix besan and yogurt in equal proportions and apply it on your face letting it stay for 10-15minutes. This pack works best for ones with dry skin, besan and yogurt will gently nourish your skin maintaining the pH level and also giving you that natural glow. Quite a profitable pack huh?
Yogurt and tulsi- With quite a lot of health benefits, tulsi can also be used for your face to get rid of pimples and acne. All you need to do is crush some tulsi leaves and mix it with a little bit of yogurt. Apply it on your face and let the herbal properties take away the acne causing bacteria!
Yogurt and lemon- Sounds like a weird combination, but this pack does wonders for those wishing to get a natural glow and also to get rid of acne. Mix yogurt with a few drops of lemon and gently massage it over your face. Lemon has some properties that help in getting the natural glow, and can also remove the dirt from your skin.
Multani Mitti
Well, multani mitti is something which does not need any kind of introductory text! Definitely a miracle for the skin, multani mitti is being for skin since the ancient times. It has great healing and cleansing properties and leaves the skin hydrated, smooth and glowing. Fuller's earth can be used individually or mixed with other ingredients that work wonders for the skin. Read on for some very easy multni mitti packs.
Multani mitti and pudina-Say goodbye to skin toxins and the dark patches we tend to get because of old age or after spending some time under the sun. Crush some mint leaves and mix it with 1 tablespoon of multani mitti and yogurt. Mix it and make sure there aren't any lumps. What else; apply this pack on your face and wash it after some time. You will feel the freshness and the dark patches lightened after one use itself. Apply this pack thrice a week if not regularly and say hello to glowing and patch free skin.
Multani Mitti and egg white- Get the flawless even toned skin with this easy to make pack, and keep aside the even tone cosmetics for the time being. Beat one egg properly and mix one spoon of yogurt and less than a half spoon of multani mitti into a smooth paste and apply it over your face. Let it stay for a while and rinse off with cool water.
Mayonnaise
And you thought mayonnaise is only used to get the sandwich right? Mayonnaise is made up of eggs, vinegar, lemon and yogurt; ingredients which are mostly used for face packs. So why not apply mayonnaise itself!
Mayo Mayo - Go out and get a jar of mayonnaise right now! Just put some of it on your fingertips and massage it over your face, avoiding the area near the eyes. Massage for a while and let it stay for a few minutes and wash it off with warm water. Don't forget to cleanse your face with a cleanser before applying mayonnaise.
Mayo and honey- Take 2 tablespoons of honey and mix it with very little amount of mayonnaise. Apply it on your face and let these ingredients cleanse your face and give you that natural glow.
Turmeric
One of the most used kitchen ingredients in Ayurveda is turmeric. It has a lot of anti-bacterial and health properties that makes it the most used ingredient in Ayurveda and home remedies. Using it in face packs is no exceptions. Read on for easy turmeric packs to get the perfectly fair and glowing skin!
Turmeric with yogurt and honey- Purify your skin with this easy mask. Make a thick paste using 2 spoons of thick yogurt, one spoon of honey and half teaspoon of turmeric, and apply it on your face. Let it stay for 15minutes and wash it off with warm water. Gently massage your face with warm water to get rid of the yellowness caused due to turmeric. This pack is best to reduce the fine lines and tanning on the skin.
Turmeric and lemon- Mix one teaspoon of turmeric with 3 big spoons of lemon juice and mix it properly. Apply this pack and massage your face, say hello to glowing pure skin!
The above mentioned face packs can be used for all types of skin; be it oily, dry, or even combination skin types. It's time to keep aside those expensive cosmetics you just bought to get the flawless skin and try out these typical desi nuskhe for a better happy and a healthy skin. Make your own face pack by mixing any of these ingredients, and you won't be disappointed. Brides and grooms out there should especially try out these packs at least 2-3 months before their big day to look like all glowing; you need to be photogenic to get the perfect pictures for your wedding album right?
Men, women and especially teenage girls, do try out these packs and choose which works for you the best. Stay tuned to this blog for more updates on easy beauty hacks for skin and your body! I'm heading towards my kitchen to make a yogurt and lemon pack, what are you waiting for??
And make sure you chose your face mask carefully to avoid skin irritations and rashes caused by any ingredient that does not suit your skin!