Need to attend a baby shower and have absolutely no idea what would make a good gift? I totally get your confusion. A very close friend of mine has just entered her third trimester and she told me that they'll be holding a baby shower soon, and I was going crazy, having a million questions on my mind. The first question that popped into my head was well, should I gift her, or should I gift the baby? And either way, what would be an appropriate baby shower present? The simple answer to that was obviously something that was thoughtful and useful. But then again, what exactly is thoughtful as well as useful?
If you're trapped in a similar conundrum then fear not! For I have figured out ideas for the best baby shower presents that you can gift to your loved ones, gifts that they will truly cherish.
Make A Unique Gift Basket At Home
Gift baskets make amazing gifts, not only for baby showers but for almost any occasion be it birthdays or anniversaries. With gift baskets for newborn babies, you can never go wrong, you can stuff many different useful things in it and because you'll make it at home, their personalized creative look, and your own special touch will definitely make your friends/loved ones feel great!
Here's all you need to make an awesome baby shower gift basket - first, make a list of all the items you want to include in your gift basket. Need help in deciding these items? Try including
Baby care items such as diapers, baby oil, baby lotion, baby wipes, baby shampoo, baby bath gel (or a top to toe wash sort of a thing), baby sunscreen lotion, and diaper rash ointments.
Baby grooming items like, nail clippers for babies, a soft baby hairbrush, baby cotton swabs, baby powder etc.
Practical items such as baby bottles, bibs (either cloth bibs, plastic or disposables, or all!), pacifiers, hooded baby bath towels, baby towels, many colourful wash clothes, bathing sponge, and a tiny baby thermometer.
Cute newborns' clothes (that make me wish like I was that tiny-sized) like, baby socks & booties, baby rompers, cute little tees, cotton baby caps, and my favourite - onesies!
Other thoughtful items for your baby basket would be teething toys, animal squirting toys, rubber duckies for a pleasant bath time, rattles, baby board books, musical toys, baby blankets, and pacifier clips.
Once that you've collected all the items you need you should have an idea about how big a basket you might need. So the next step for you will be selecting a suitable basket- not too big nor too small either, ideally, it should be big enough to hold all the items. Baskets are available in all sizes, forms, and materials in the market.
Choosing a basket is totally up to you, they are made out of natural materials like palm leaves, bamboos, willow, straw or cane look different and baby friendly. But plastic or wood would also do! I'd suggest you to select a basket that you think that might come in handy for the new parents to store diapers, toys or clothes later on.
If you think you have too many items and you might need a gigantic basket (because baby blankets, baby clothes, and toys might take up a lot of space!) then I have a better option for you- a baby bath tub! Awesome, right? You can fill it up with all your gift items and tie it with one big pretty bow or several small handmade flowers made out of paper or ribbons all over the bucket.
Gift A Ready Made Gift Basket Or A Gift Pack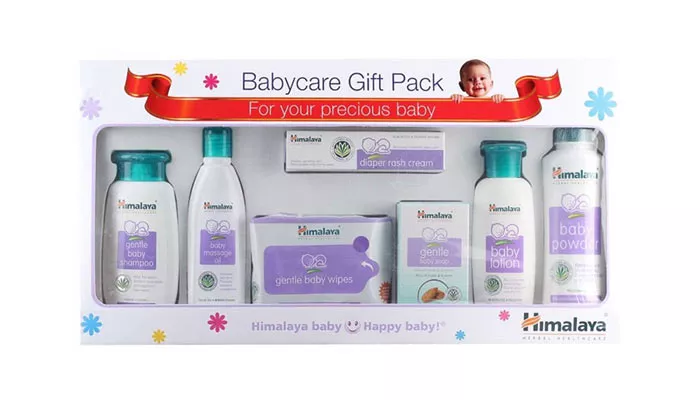 If you don't think that you can go through the elaborate process of coming up with a gift basket piece by piece on your own then don't worry. There are plenty of gift baskets for newborns available in nearly all baby shops and even online stores. The first kind of gift basket that is available in markets include some common essential products such as shampoos, soaps, cream, wipes lotions, massage oil, rash cream for babies.
There's a difference between a gift basket and a gift pack. A gift pack usually consists of baby care products, mostly the ones mentioned above (shampoos, soaps, cream, wipes lotions, massage oil & rash cream) and they come in small, medium and large sizes. Mostly the larger sized ones might include a tether, a comb or a brush and a rattle along with all the baby care products. You can also easily find herbal or organic baby products from brands like Himalaya.
The second kind of gift basket includes a couple of sets of baby clothing like tee's, pants or leggings, caps, rompers, socks, washcloths, a pair of booties, tether, a brush or a comb.
The third kind of gift basket for newborns (my favourite) consists of various important baby elements such as, a cuddly toy, rattle, blankets, onesies, tees, socks, a set of booties, cotton caps, bibs, washcloths, baby pillow along with baby wash, shampoo, lotion, cream, oil, powder and moisturizer.
There you go, you've got plenty of choice for a market gift basket (or pack) as well. The only downside to this could be that your gift might not be as unique as a homemade gift basket, but that's no problem because at the end of the day a gift basket is a gift basket and it makes a wonderfully thoughtful baby shower present.
Gift Different Sized Socks, Booties And Baby Shoes
Here's a good one. Get multiple number different sized babies socks and booties. A newborn may not need shoes immediately but as soon as kids start walking they need matching shoes for each outfit!
Socks and booties will come in handy because newborns are supposed to be kept safe and warm and they'll come to use especially during winters. Speaking of winters, why don't you add cute little mittens to the group too!
But why different sized? Because children grow really fast and remember, we don't want our gifts to last just for a few months! Gifting a single small sized set of ten or fifteen socks and booties would only be useful for the parents for a couple of months. And, a lot more people would be gifting booties and socks just about the same size. So about two or three pairs of each size makes more sense and makes your gift a bit more unique.
The same goes for shoes, gift three or four pairs of different sizes of shoes. This way your baby shower gift will survive the longest and be useful as your friend's or loved one's kids would grow. Your loved ones would really appreciate your gift each time their child grows out of the old ones, they'd already have a more comfortable size that fits her/him in their closet!
Gift Different Sized Baby Clothes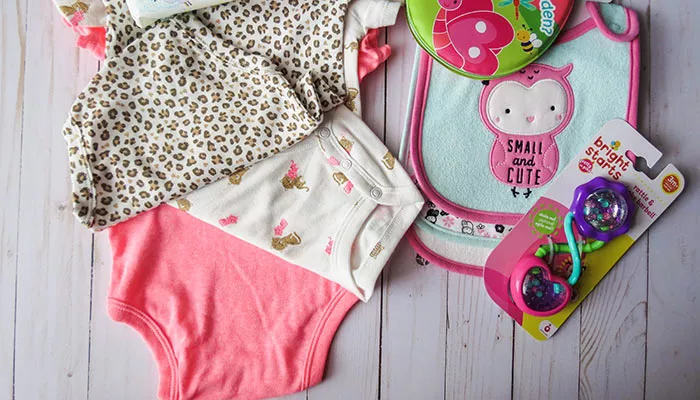 You can never have enough clothes for little babies. Tees, shirts, onesies, lowers, frocks, pants, dungarees and what not! And the same logic applies when it comes to gifting a bunch of clothes to your close ones.
Buy multiple sized baby clothes, all sizes including from zero to three months - three to six months - six to twelve months - twelve to eighteen months and eighteen to twenty-four months. Like I mentioned above, babies outgrow clothes quickly so if you would buy ten or fifteen same sized clothes then your friends will only be able to use your gift one for just a few months. Now I know you don't want that. If you'll get a pack of all sized clothes then you're baby shower gift won't just be unique and thoughtful but also very useful for you're the little baby for at least a year or two.
You can also add baby toys or a set of baby feeding dishes or a baby care pack along with your pack of different sized clothes for the newborn.
Gift A Concoction Of Various Baby Care Toys
All newborns require as many interesting, cute, cuddly toys as they can get, and parents love it because some of these toys aren't just for show but most of these are extremely beneficial for newborns as they rapidly grow. These would include rattles because they help in distracting the babies when they cry (a blessing for parents), teethers for when the child starts teething, soothers, baby bath toys such as rubber ducckies, fishes, turtles etc, baby bottles, pillows, baby feeding set, cuddly toys that help babies sleep, cute sipper cups etc. These too you can gather and present in a basket with a large bow on the top.
Gift A Baby Car Seat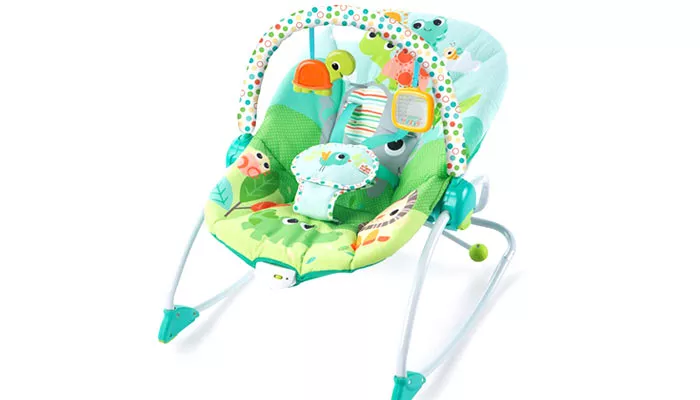 Baby car seats are a very important part of child safety equipment that every parent needs to have. Did you know that by law in all 50 states of the Unites States of America children must be properly restrained in the back of the car and in a car seat, usually until the kids are at least seven years old? However, that is not the case in India, but the safety of children should be kept as paramount importance whether or not the law states it.
So gifting a baby car seat will prove to be an apt gift as a baby shower present. The parents to be are going to love it!
Gift A Newborn To Toddler Rocker
Newborn to toddler rockers are two-in-one products that can be utilized as a baby rocker and a baby seat for a quick nap, also the parents to be can easily lift it for relaxing and feeding their baby. These rockers are designed in a new advanced manner, which presents a blend of style as well as comfort at the same time. This awesome rocking cradle provides relaxing comfort and support to the newborn.
The gentle rocking motions of these rockers provide the newborns with a relaxing and smooth constant movements or vibrations which promote relaxation and calms down little babies, therefore, it actually makes the infants less cranky and helps babies fall asleep within minutes.
So there you go again, another unique baby shower gift that would prove to be extremely useful and also an absolute blessing for your loved ones.
Gift Baby Bedding Equipment
Baby bedding equipment, I have to say are a bit conventional. But you can never go wrong with a bunch of baby bedding items as baby shower gift.
Bedding equipment will cover a large number of baby care products such as two or three bed sheets, a couple of quick dry sheets, baby blankets, baby head and side safety pillows, cuddly toys that emit soothing vibrations assisting the babies to sleep peacefully, mosquito net to keep fragile newborns safe and away from unwanted bugs and mosquitoes at night and musical toys that would keep newborns constantly entertained when they turn a few months old (some also include bedside night lamps).
The fun thing about baby bedding equipment is that all the items share the same theme or colour.
Gift The Parents To Be Baby Proofing Products
Baby proofing is really not an Indian concept, but it's gaining strength and recognition rapidly. Again, child safety is of paramount importance for parents and how to else to make sure that the house is safe for the child when it starts crawling? Baby proofing seems like an important measure that parents should and do take before the newborn arrives - before the baby starts crawling - and before the baby starts toddling and climbing so that the baby doesn't bump into anything sharp or strong.
Baby proofing products include safety monitors, guards and locks, safety harnesses, strip cushions, 'U' and 'V' shaped edge safety cushions, electrical socket covers, and door handles protectors.
Gifts For Mom to be
Finally, mommies too deserve to be equally pampered, so gifting a little something to expecting mommy makes sense. A few things that you can gift the mommy to be are breastfeeding pumps,maternity or nursing garments, apart from that, you can get them a gift card for a spa or a massage or a day at the salon for manicures, pedicures, or whatever they desire.