After the scorching and sultry summers, the first monsoon showers give everyone a relief. Monsoon season is my favourite; I love the smell of wet earth and the cool breeze that flows everywhere! I remember dancing and singing in the rain, making paper boats and sailing them off in little puddles. Feeling nostalgic aren't you? Let's take your nostalgia to another level, recall how your skin reacted during the monsoons. Yes, no good memories for skin, itchiness, irritation, dryness or oiliness throughout the season!
With monsoon showers above us, let's not be unprepared for the skin disasters, and quickly take up steps to keep our skin healthy! This article focuses on how to tackle monsoons depending on the type of skin one is bestowed with. So, look up for your skin type and try incorporating the tips.
Dry as a Desert!
All of us get frustrated of dry skin during the winters, but some of us have dry skin by default. Bad isn't it? And the worse part, the dryness of skin is even more frustrating during the monsoons. Why? The ever-lasting itchiness and discomfort, toppled with mosquito bites and rashes! Red skin and white flakes all over, right? But not to worry, follow the simple monsoon routines for a better skin health this monsoon!
Stay Hydrated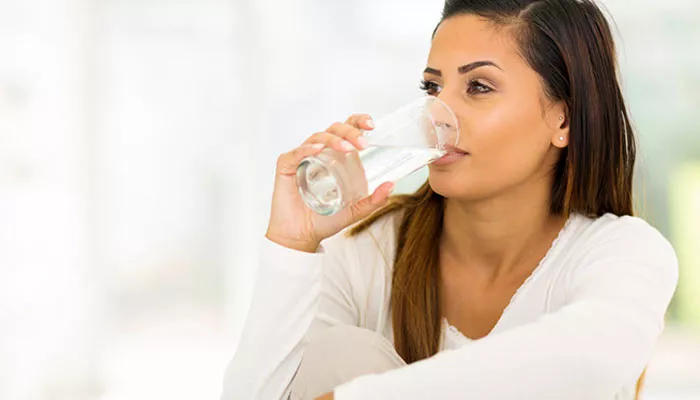 Although drinking water is the best way to stay healthy internally, it also keeps the skin healthy. People with dry skin should drink at least 9-10 glasses of water every day during the monsoons, to stay hydrated. I know that your trips to washroom would increase, but you're releasing the toxins, working towards your health!
Cleanse it up
With a lot of infections, germs and dirt in the environment, it is very important to clean your face and body properly. It is suggested to wash your face with warm water during monsoons; especially after getting drenched the rain. Same goes for the bath. Take bath with warm water; neither cold nor hot. Cold water bath should definitely be avoided, as the weather outside is cool, and cold water bath may lead to cold or fever.
Don't forget to scrub your face gently after your day in the sun (scrub very gently if you go out every day). The germs and dirt needs to be cleaned as soon as possible to avoid unnecessary marks or blemishes on the face. Scrub your face with any fruit pack or your regular face wash, and rinse it off with warm water. Also, avoid using strong scented body showers or soaps, and try using mild antiseptic or moisturiser ones, so that your skin gets rid of the dirt, and also remains moisturised.
Moisturising is the Key
Before going for a bath, just dab your skin with any massage oil or baby oil, this will help reducing the itchiness and the urge to scratch. After taking bath, apply moisturiser or any of your favourite lotion all over your body, to avoid dryness and the flaky situation. Try applying lotion before sleeping as well.
Makeup and Cosmetics
One thing that all the ladies should make sure is to remove the makeup before sleeping, so that the chemical does not seep into the skin and cause damages. For those with dry skin, avoid using alcoholic toners as the skin gets dry with use it these toners. Make sure you chose your cosmetics carefully; discontinue using the cosmetics that lead to dryness.
Oily Poily!
Recall trying our experiments of mixing oil in some water. Did oil mix with water? No, exactly what happens with people having oily skin during the monsoons. A big oily-watery mess, isn't it? It has been observed oily skin needs some extra care during the monsoons as compared to dry skin or combination skin. Try out the following tips this season and feel a little less messy.
Cleanse all that Oil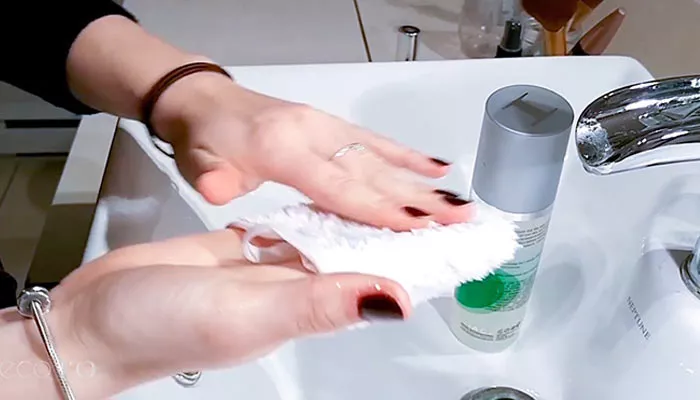 Cleansing is a habit that all of us need to start, no matter what the weather. During the monsoons, oily skin suffers the most. With the dirt and pollution everywhere, all of it gets stuck on the skin, and clogs all the pores. Cleansing helps in washing away all that dirt, and also reduces the chances of unwanted acne and marks.
Wash your face at least 4-5 times every day, preferably with warm water. Warm water tends to rinse off the extra oil better as compared to cold or hot water. Use the face wash meant for oily skin, and rinse off with warm water. All that extra oil and dirt removed in one minute! Scrub your face at least twice a week to remove the dead cells and minute black heads or white heads. Avoid using heavy scrubs and cleansing products, opt for natural ones. Use shower gels or soaps meant for oily skin, after all, face skin is not the only oily part!
Tone it up
No matter what the skin type, toning is the next step after cleansing. The skin feels new and refreshed and cleaning it from all the dirt and germs. The pores are also open, which is a major concern as open pores attract dirt and pollution. Hence, toning comes to rescue. Use mild toners and apply it all over your face. You can even use some rose water as a toner, after natural remedies work the best as compared to the branded cosmetic products!
Moisturiser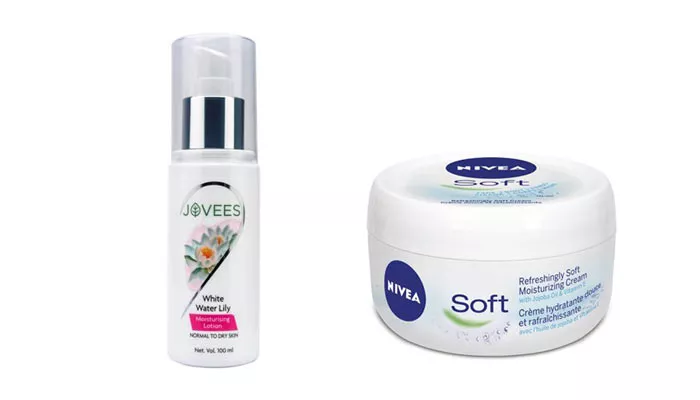 Even though your skin is naturally moisturised all the time, that does not mean you would skip this essential step! Use water based moisturisers or baby creams for your skin. I have seen that baby lotions are not very hard on the skin, nor very oily. So, after your bath, the way you tone up your face, apply moisturiser all over your body.

Eating Habits
You might be wondering what eating habit has to do with the maintenance of oily skin. Both the things are related. If you eat a lot of oily food, or food with a lot of starch, it reflects on the skin. Hence, cut down on the oily and yummy pakodas for the better maintenance of your oily skin!
Combination Skin
I have a combination skin, and trust me; it's quite a weird situation for us all round the year! I am always confused about what to do and what not. Combination skin is a mix of both dry skin and oily skin. What every person having combination skin faces is, an oily T-zone and dryness on the remaining parts. T-zone is the forehead area along with the nose. So, in other words, the forehead and nose gets excessively oily, while the cheeks and chin gets dry. Follow the following tips for surviving this shower season!
Water
Drinking 8-9 glasses of water is a must for the proud owners of combination skin like me! You will feel a lot of change in the way your skin feels, after you start this habit.
Cleanse
As mentioned in the above types of skin, cleansing is quite important no water what. With some portions attracting a lot of dirt and germs, while some being just plain dry, cleaning the face a number of times every day is a must. Use a basic mild face wash, instead of specific oily or dry ones. Rinse your face with warm water. Use mild body shower gels or soaps as well.
Tone & Moisturise
Toning is the next step. Use mild toners and apply all over your face. You could also dab some lemon juice all over your face, and leave it for a while. Rinse off with cold water. Lemon acts both as a cleanser and toner. It will close all the open pores and prevent dust sticking.
Use mild moisturising creams for the body. In my case, my face is combination type, but my skin on the whole is dry. So, using mild lotions or baby lotions does not work for me. Carefully observe your skin type and then use the appropriate moisturisers. Apply sunscreen as well before stepping out in the sun.
Makeup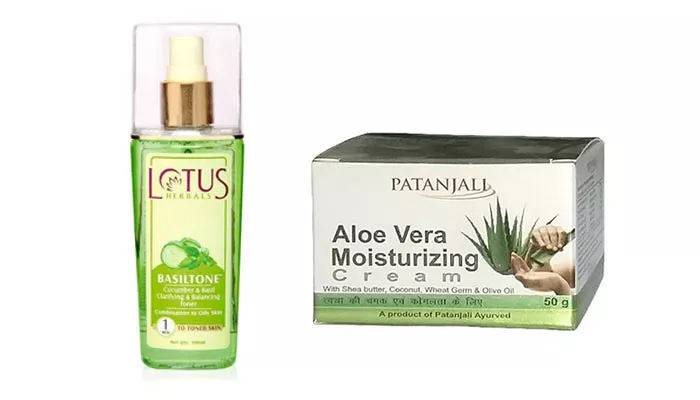 Choosing the most suitable makeup from the infinite cosmetic brands is a tough task for all women. But, choosing a cosmetic according to the skin type is even harder. Combination skin owners should be very careful while picking out their range of cosmetics and makeup. Opt for mild ones and the ones with minerals; it works best for combination skin.
So, all you people out there, focus on your skin type, and then take the necessary steps for maintaining it well this monsoon! Read our article on monsoon face packs to know more about ways to keep your skin healthy during the showers. Also check out our articles on face packs and fruit face packs to know how to keep your skin healthy in general, by using the easily available kitchen ingredients! I feel using the natural ingredients for face mask is way better than spending bombs on expensive face packs.
While the above section focused on tips for specific skin types, following are tips to be followed in general during the monsoon.
Dos of Skin Care in Monsoon
Prefer taking warm showers instead of cold water showers. Warm bath is a must specially after getting drenched in the rain.
Always apply a moisturising lotion after bath. Sunscreen is also a must before leaving the house.
Wash your face with a face wash at least 2-3 times a day. Clean and clear skin reduces the chances of acne.
Do yoga and meditation to relieve yourself from all kinds of stress. Lower levels of stress mean lower chances of skin woes.
Drink plenty of water throughout the day. We tend to sweat a lot during monsoons, so drinking fluids keeps you hydrated.
Always remove your makeup before sleeping. Make it a habit which needs to be done all round the year.
Use waterproof or gel based cosmetic products.
Avoid applying heavy makeup; not only will it lead to skin woes, but your makeup might also get ruined if you get drenched in the rain; so say no to heavy makeup.
Scrub at least twice a week.
Don't forget your neck! Make sure you moisturise and scrub your neck as well.
Eating healthy fruits and veggies like green leafy veggies is good for the skin.
Get your beauty sleep. Sleeping for at least 7-8 hours is a must. Chances of dark circles and other skin woes reduce.
Don'ts of Skin Care in Monsoon
Avoid getting drenched in rains. This increases the chances of falling sick because of dampness in the body.
Don't take bath with cold water; this increases the risk of catching flu.
Don't stress out. It is a given that taking a lot of stress lead to skin woes like acne, wrinkles etc. So, try not to take the work load too seriously.
Avoid coffee and alcohol.
Avoid heavy fried food items and sea food.
Avoid using alcohol based cosmetic products; it leads to dryness of skin.
Monsoon season turns out to be the best season for some, and worst for some. It's all how we tackle this loved and hated season. There are number things that need your attention during this season. But, what most of us focus on is taking precautions of not catching diseases like Dengue, Malaria or Chikungunya. We make sure our surroundings are clean with no possible places for water accumulation, we make sure not to eat any roadside food; but do we take care of our skin? No, most of us are too busy to look after our skin. So this season, while you take precautions of not getting bitten by mosquitoes, keep your entire work load on standby and make it a habit to look after our skin. Try out the above dos and don'ts in general, while also focus on the special attention to be given on the type of skin you won. Let's be prepared this season and survive the monsoons without any skin woes!