Enjoying the lovely breezy weather with some pakodas and tea? Well, most of us prefer this pakoda-tea combination to spend a lazy rainy Sunday with our families, don't we? Monsoon showers come to us as a relief from the scorching and sultry summers. No matter how much traffic we face on the roads, we still can't get enough of monsoons.
So, while you sit and enjoy your tea, just quickly touch your face. Feel something? Uneven texture, oiliness or dryness, acne? Even though monsoons give us a relief, it comes with a lot of problems, be it cold and fever or skin diseases; it's like a package, you have to accept the pros and the cons. So, in this article you will find out about some very easy home-made face packs to survive the shower season without any marks or dull skin!
Banana-nananana!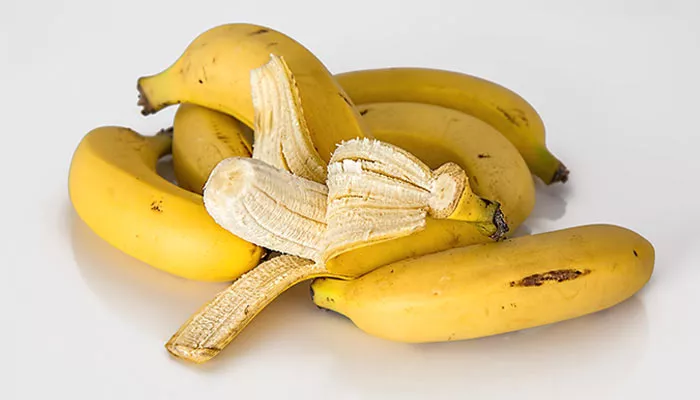 Banana face mask is my personal favourite. Recently I tried out this face mask, and after washing off my face, I could feel the freshness in my skin. Banana face mask works best for people with oily skin. Reason being, it extracts all the excessive oil, and leaves your skin oil free yet moisturised. Using this face mask during monsoons is very useful as it tends to extract all the oil and bacteria clogged up in the pores. We all know that the amount of dirt, bacteria and germs are on the higher side during monsoons, so the banana deep cleanses the skin removing all the dirt and bacteria which, if not removed will leave your face full of acne. Try this pack NOW!
All you need is a ripe banana, some honey and some lemon juice. Mash the banana and mix one teaspoon of honey and lemon juice in it. Mix it well to get a smooth paste. Apply this pack all over your face and neck, let it stay for at least 15minutes and rinse off with warm water. This mask is recommended especially for the oily skin type. Another way to feel rejuvenated and refreshed is to add some mint leaves in the mashed banana. Grind some mint leaves in the mashed banana, if you want you can add lemon and honey as well. Let it stay for 15-20 minutes and rinse off with warm water.
Chandan & Gulaabjal
Sandalwood aka chandan is great for treating all types of skin problems. I personally use sandalwood on my forehead, which is covered with acne all-round the year. With sandalwood, I also mix a few drops of rosewater aka gulaabjal, this is a great combination for getting rid of acne asap! What I did not know was the fact not only does it reduce the acne, it also acts a way to control those active oil glands and open pores. A great way to cleanse your face, sandalwood has a number of benefits for the face, especially during the monsoons. During monsoons, the oil glands work actively, and the pores attract all the dirt and bacteria. So using the sandalwood mask aids in controlling all of these activities.
Just make a paste of chandan, using rosewater; smells good right! Apply it all over your face and neck and let it dry, (approximately 15-20 min) take a nap till then. Rinse off with warm water, and feel refreshed. I can guarantee that your acne will reduce just after one use. Sandalwood pack is highly recommended for the dry skin type, as it is a great moisturiser and keeps the skin moist throughout the day. Apply this pack every day, after all excessive sandalwood is not bad! But, if you do not have the time to repeat this every day, try applying this pack at least thrice a week.
Oatmeal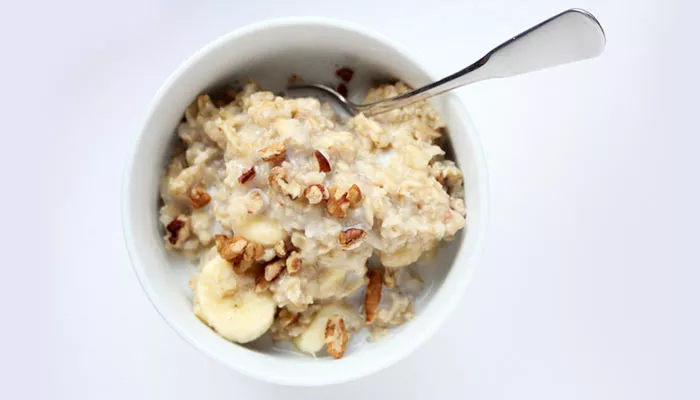 You must have heard fitness freaks and people trying to lose weight mentioning that they eat oatmeal for breakfast. The reason is that it helps in cutting out the cholesterol and fats in the body. Oatmeal does wonder for the body, and also for the skin. It is like a safe haven for people with oily skin. Applying oatmeal not only cleanses the face and the pores; it also extracts the extra oil that builds up during the monsoons. It also reduces the redness and irritation, cleanses the skin from all the dead cells, and leaves fresh and rejuvenated skin. Since it has anti-inflammatory and soothing compounds, it also even tones the skin.
Just grind 2-3 teaspoons of oatmeal in a grinder, add one teaspoon of honey, some curd and a portion of egg white, and mix well. All the above ingredients are good for cleansing, toning and giving the skin a radiant glow. Refrigerate the mixture for a while, and apply it all over your face and neck. Let it stay for a while and rinse off with warm water. Pat dry the skin, and feel the freshness! Those who cannot use egg can make this with the rest of the ingredients. You can also make the oatmeal pack with just water or honey. Anything would work.The oatmeal pack is highly recommended for those with oily skin.
Multani Mitti
Well, multani mitti is something which does not need any kind of introductory text! Definitely a miracle for the skin, multani mitti is being for skin since the ancient times. It has great healing and cleansing properties and leaves the skin hydrated, smooth and glowing. Hence, its importance during the monsoons increases even more. No matter what skin type you are bestowed with, multani mitti is an all-rounder. For those with oily skin, fuller's earth will extract the extra oil. For those with dry skin, multani mitti will leave your skin moisturised throughout the day, while for those with combination skin, it will give you the skin you have always wanted.
The best part of using multani mitti is that you can use it with water or any other ingredient, your pick! Mix some in water, or yogurt or milk; you can add rose water, lemon juice or even honey. You could also mash up everything I wrote above! All you need to do is make the pack, apply it on your face and neck for at least 15-20 minutes and wash with warm water; you have rejuvenated and clean skin as a reward!
If you want to add fruits, you can mash strawberries or papaya in fuller's earth. The benefits are endless!
Papaya-yayayay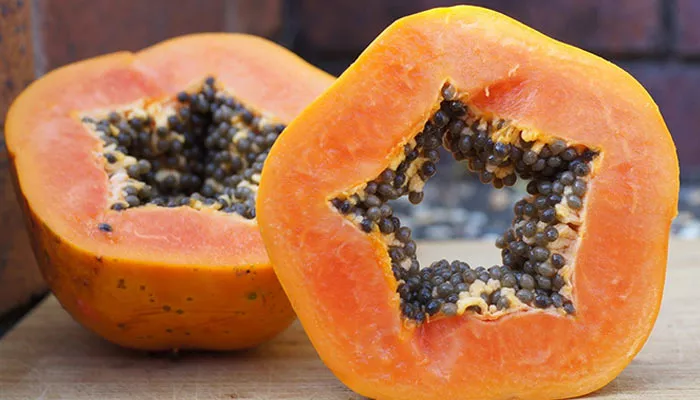 Papaya is a seasonal fruit, very good for the digestive system. It is also very good for the skin. Papaya acts as a natural cleanser and toner, removing all the dirt and germs clogged up in our pores, also gives the skin a radiant glow. Papaya face mask is highly recommended for those with dry skin. Reason being, hard scrubbing might lead to rashes on the already dry skin. Hence, papaya pulp when mixed with any scrubbing ingredient helps in cleansing the skin and avoiding rashes. I don't think you need any more reasons to try this face pack right now!
Just mash a few pieces of papaya to get a slurry paste, add ground oatmeal as the scrubbing agent. You can also yogurt or milk in this paste. Apply it all over your face for a while till its dry, and rinse off with warm water.
Almond and Rice Flour
Improving memory is not the only benefit of almonds! It helps in gently exfoliating and cleansing the skin, washing off all the germs and dirt. Just grind some pieces of almond, add a little bit of rice flour; mix it with some water/milk or yogurt to get a slurry paste. Repeat the same steps as mentioned in all the above packs!
Yogurt
While yogurt can help a lot in making those delicious dahi ke kebabs, it can also be used to cleanse and give a glow to your skin. Yogurt is used best for getting rid of the tanning, but also cleanses and purifies the skin. Just not purifying, it also works as an anti-aging agent and reduces the age spot and fine lines on the face. Refresh your skin with yogurt now!
Mix yogurt with multani mitti or crushed almonds, your call! I personally prefer making a face pack of yogurt with honey and lemon. I would suggest this pack for those with combination skin type, and also those who have an oily T-zone.
All you need to do is take two tables spoons of yogurt, add one tablespoon of honey and lemon juice. Mix well to get a paste. Make sure you take some thick yogurt; otherwise applying it will be a hard and a messy task. Apply it over your face and neck for a while and rinse off. This helps in removing the extra oil from the oily spots, and also moisturising the dry spots. If you don't wish to add these ingredients, just dab some yogurt on the face and you're done! Rinse off with water and feel refreshed.
Cucumber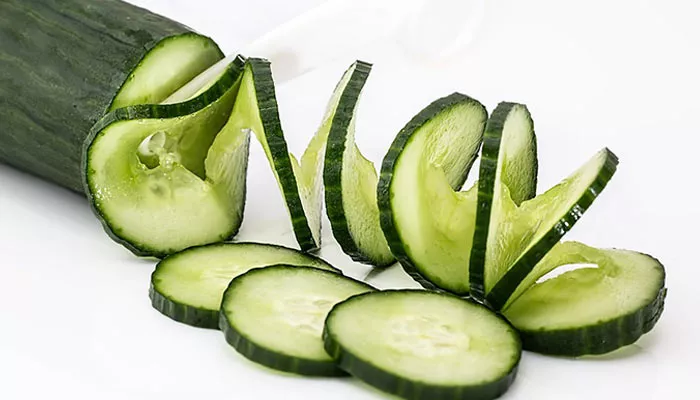 For me, cucumber was only meant for keeping it over the eyes (thanks to the number of movies and spa treatment ads that I have seen). But that's not the only thing cucumber is meant to do, right! This refreshing green vegetable is a great way to tone, tighten and cleanse the skin. BY far, cucumber pack is my favourite, because just thinking of it, I feel refreshed!
Grate some cucumber and add honey to it (don't forget to cut two slices of cucumber for your eyes, you need to get the feel of spa right!). Apply the grated cucumber honey mix on your face and neck till it gets a little dry. Rinse off with warm water. This pack can be used by all, no matter what the skin type. Say goodbye to dirt, acne, blemishes, and all the aging signs by just one face mask!
Just applying the above face masks is quite sufficient to help you survive the showers, but keeping in mind the following tips would make it easier to handle your skin! Read on for some additional tips regarding the monsoon dos and don'ts for skin.
Dos of Skin Care in Monsoon
Prefer taking warm showers instead of cold water showers. Warm bath is a must specially after getting drenched in the rain.
Always apply a moisturising lotion after bath. Sunscreen is also a must before leaving the house.
Wash your face with a face wash at least 2-3 times a day. Clean and clear skin reduces the chances of acne.
Do yoga and meditation to relieve yourself from all kinds of stress. Lower levels of stress mean lower chances of skin woes.
Drink plenty of water throughout the day. We tend to sweat a lot during monsoons, so drinking fluids keeps you hydrated.
Use waterproof or gel based cosmetic products.
Scrub at least twice a week.
Don't forget your neck! Make sure you moisturise and scrub your neck as well.
Eating healthy fruits and veggies like green leafy veggies is good for the skin.
Get your beauty sleep. Sleeping for at least 7-8 hours is a must. Chances of dark circles and other skin woes reduce.
Don'ts of Skin Care in Monsoon
Avoid getting drenched in rains. This increases the chances of falling sick because of dampness in the body.
Don't take bath with cold water; this increases the risk of catching flu.
Don't stress out. It is a given that taking a lot of stress lead to skin woes like acne, wrinkles etc. So, try not to take the work load too seriously.
Avoid coffee and alcohol.
Avoid heavy fried food items and sea food.
Avoid using alcohol based cosmetic products; it leads to dryness of skin.
Phew, I'm all set to try out the face masks that I haven't tried already! What are you waiting for? Head to your kitchen and try out the above packs this monsoon! You can also read our articles for general face packs and fruit packs as well, just pick out the most suitable one and apply that mask on regular intervals for a healthy and flawless skin!