We all love winters right? Don't we all wait for the season so that we could dress ourselves in those trending leather jackets, coats and boots? Winter season is one of my favourite seasons as I love the freshness and the chill in the cold winter air. But what disappoints me during this season, is the dry face and messed up hair. I guess, all of us; be it men or women, feel the same. The cold harsh air, although makes us feel good; it has an opposite effect on our skin, scalp and face. The air extracts all the moisture from our body, making our skin and scalp dry. Well, I'm all set for the winters with a wide range of hair and face packs to survive the harsh winters, but is that all? Am I not forgetting something? Yes, I am. Our lips! Our lips have the thinnest skin which makes it the most affected body part during the winters. Oh those chapped and dry lips, brings in a lot of embarrassing memories don't they?
We take immense care of our face and hair during every season, especially during winters. We keep trying out a number of face packs and hair packs to look like a diva during the winters, but is anything special done for the lips? No, most of us survive the winters on a stick of our favourite flavoured lip balm. Let me tell you, that's not enough! There are a number of things where we go wrong while taking care of our lips, and surviving on that one chapstick is definitely not enough!
Causes of Chappy Lippy!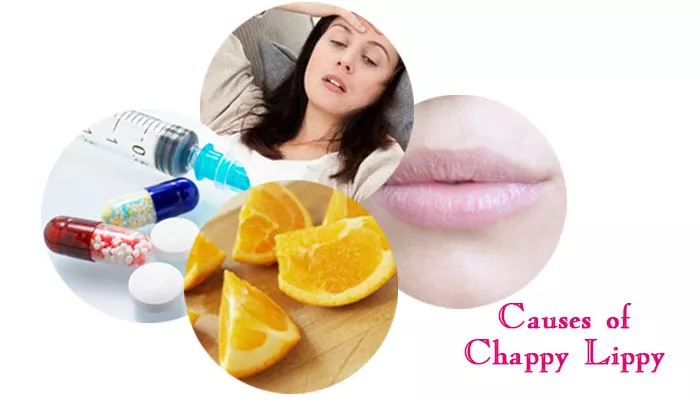 There are a number of reasons why our lips get chapped during winters, some of which are our fault, while some are mistakes we aren't aware of. Read on for a list of the most basic causes of chapped lips.
Medicines
It so happens that the medicines we take have a side effect on our lips. People taking medicines for blood pressure or diabetes would often feel their lips all dry or chapped. Even those taking anti-aging capsules would feel the side effect on their lips.
Too Much of Citrus
Citrus fruits tend to irritate the lips. Recall when your lips were chapped and you ate a tomato or an orange; you must have felt a tinge on your lips. Eating excess of citrus fruits can lead to chapped lips.
Stop Licking
It so happens that we tend to lick our lips the moment it gets dry. So we lick, and again our lips get dry, we lick again; this creates a cycle. Our saliva gets evaporated, and with the saliva, some moisture also gets evaporated. So licking continuously will make your lips even drier.
Dehydration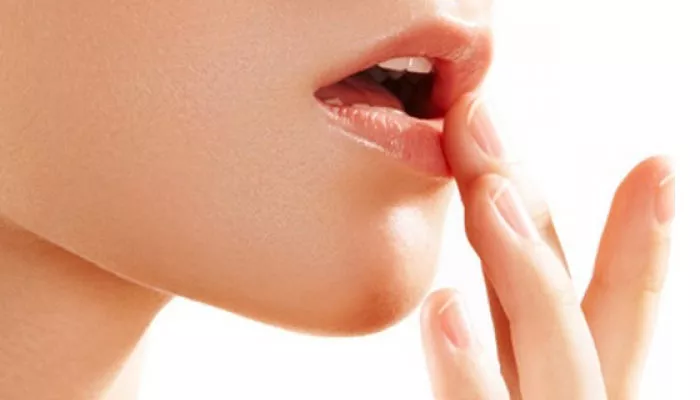 Well, drinking plenty of water every day is a must to lead a healthy life. Lips have the thinnest skin so lack of water in the body is first felt with dry lips. Our lips do not have any oil glands, so the all-time source of moisture is not there. Hence, drinking water is must to avoid chappy and cracked lips!
Sun Rays
And you thought tanning was the only disadvantage of being out in the sun! The harmful rays of the sun that hit our lips, leaves it marks behind by making it prone to cracking and chapping. Rather stay home right?
Home Remedies for Chapped and Cracked Lips
Honey Remedy
Honey contains a lot anti-bacterial compounds that are great for the skin and hair. Also honey is the best for weight loss. So how can we skip using it on our lips? Applying honey on the lips helps in softening the skin, and also treating the chapped lips. Honey adds moisture and softens our lips.
Just dab some honey on your lips several times a day and let it do its work. You will feel your lips are softer after a single honey spa! To get an added benefit of honey, apply petroleum jelly after you apply the honey. The petroleum jelly tends to act as a protective layer and let the lips absorbs the nutrients of honey better. Let it stay for 10-15 minutes and remove it with a soft cloth.
Cream and Lemon
Milk cream is one of the most common remedy to treat dry lips. I personally apply milk cream when my lips get extremely dry. Coming to lemon, lemon juice contains a lot of compounds that are good for the skin and hair. Lemon juice will remove all the dead cells from the lips and also soften the lips.
All you need to do is take some milk cream and squeeze some lemon juice in it. Keep it in the refrigerator for 2 hours and apply it on your lips during the day if you do not plan to go out, or else apply it before going to bed.
Rosy Lips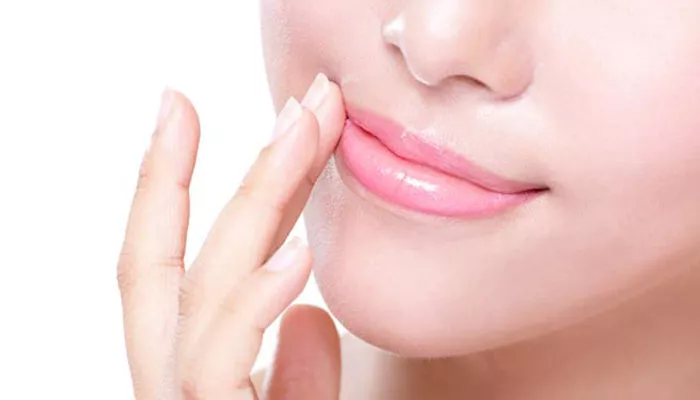 Rose petals are great for the lips. It contains skin lightening and softening compounds that will help in treating chapped lips and also lighten the colour of the lips.
For this remedy, you need some rose petals and milk. Soak the rose petals in raw milk for a few hours. Use a spoon to mash the rose petals in the milk to get a smooth paste. Apply it on your liips and let it stay for a few minutes. Remove it with a soft cloth. This will hydrate your lips and also give you pink rosy lips!
Coconut Oil
Coconut oil is the also one of the most common ways to treat your dry and chapped lips. Coconut oil is a great source of vitamins and nutrients for scalp, and in the similar way, it works well for the lips as well.
You need only a few drops of coconut oil on your finger. Just rub it gently across your lips and let it stay. You don't need to remove it as the coconut oil will get absorbed.
Olive Oil
Olive oil is another oil that works well for hydrating the skin, hair and lips is olive oil. Applying olive oil on your lips will leave it soft and supple as the compounds in it treat dry and chapped lips.
Cucumber
Cucumber is a saviour for us during summers to keep our face cool and hydrated. It also works for our lips as well. So cucumber for skin during summers and for lips during winters!
Grate a small portion of cucumber and apply it gently on your lips. Let it stay for a while and remove it with your fingers. You can also apply cucumber juice instead of the grates. Another easy way is to rub a slice of cucumber on your lips for a few minutes.
Exfoliate your Lips!
Lip exfoliation is a great way to get soft pink lips. Exfoliation helps in getting that perfect texture of the lip, and also avoids discoloration. All the dead cells are gently removed through exfoliation. The lips turn out to be soft and pink. Following are easy homemade lip scrubs you can definitely try out!
Petroleum Jelly - You need an old toothbrush with soft bristles. Put some petroleum jelly on the bristles and gently brush it on your lips in circular motions. Continue doing this for two minutes and rinse off with warm water.
Sugar and Coconut Oil- Mix a few drops of coconut oil in some sugar, and gently rub it on your lips in circular motion with your finger tips or an old toothbrush. Wash with lukewarm water.
Gulaabjal and Glycerin- Glycerin and rosewater individually are saviours during the winter season, so why not mix the two. Yes, just mix the two liquids in equal proportions (a few drops are sufficient for lips) and dab it on your lips. Massage your lips in circular motion with your fingertips and continue this process for a few minutes. Remove it with cotton or a soft cloth. You can also apply this mixture overnight.
Note- Make sure you apply a lip balm or petroleum jelly after exfoliating your lips. It's just like moisturising your face after scrubbing.
Basic Tips for Lip Care during winters
With the above causes of chappy lips, along with the home remedies, are we all set? No, we still need to take care of a few things to avoid embarrassing lips throughout the season. Read on for some basic tips on lip care.
Drink lots and lots of water! Make it a habit to lead a healthy life. Hydrated body means a hydrated pair of lips. Lips have the thinnest skin in our body, and hence signs of dehydration are first visible on our lips itself. So, get going you water girl!
Take a water bottle everywhere. Even if you're going to the near grocery store, carry a water bottle with you. Be it office, or a salon, or even for a walk; carry water with you. This will help in getting used to the drinking water habit.
Stay Indoors. Although it is impossible to stay indoors throughout the season just to keep your lips protected from the cold harsh air outside, but try not going out unnecessarily. The cold air tends to draw out the moisture from our lips and leave it dry. All that effort gone wasted!
Stop licking your lips. It so happens that we tend to lick our lips the moment it gets dry. So we lick, and again our lips get dry, we lick again; this creates a cycle. Our saliva gets evaporated, and with the saliva, some moisture also gets evaporated. So licking continuously will make your lips even drier.
Avoid mouth breathing. Just like licking lips leads to drier lips, breathing from the mouth also leads to dry lips. For many of us, winters are marked with blocked nose, which means mouth breathing. Treat you blocked nose as soon as possible so that you don't breathe from your mouth.
No Matte for winters! I know most of you would be breathing on that particular shade of matte lipstick, but for the sake of your sensitive lips, try using it les during winters. Matte lipsticks leave your lips dry, which is why it stays longer. Having chapped lips and applying matte lipstick is like a crime for the lips! So, avoid matte lipsticks as much as you can.
Exfoliate your lips. Who said exfoliation was only for the skin? Lip exfoliating is very important to get rid of the dead cells, which leads to chapped and cracked lips. Instead of using the easily available branded lip exfoliator, try using the natural homemade ones. Reason being, homemade exfoliators would not lead to any side effect, which the branded ones might contain acids, which would aggravate your lip situation.
Get the perfect lip balm. Choosing a perfect lip balm is also a hard task just like choosing a perfect face wash is! Try using lip balms that contains hydrating elements, instead of just the most famous or colourful one. Since most of us survive the season with a lip balm. It is important that you choose the correct and the most suitable one instead of a 'this is new in the market' lip balm.
Be careful while brushing your teeth. Make sure you do not leave the toothpaste on your lips for long, as the toothpaste irritates the most when our lips are chapped.
Apply lip balm before sleeping. This is a habit that everyone, be it men or women, should follow. Apply lip balm before washing your face as well.
Don't forget to remove your lipstick, matte or not, before sleeping. We don't our lips all dry when we wake up in the morning.
I don't know about you, but I am definitely all set for this winter season! Hair care, check; skin care, check; lip care, check! With the above tips and remedies to treat chapped lips, I am definitely ready for the winter season! What are you waiting for? Just randomly select any of the above remedies and get started! Survive the coming cold months with soft pink lips, and no chapped or cracked lips!