With just a few months left for the arrival of winters, let's be prepared beforehand to keep ourselves and our loved ones healthy this season. Read on for some basic tips for child care, skin care, foot care, hair care and lip care.
Child Care
Kids and infants are more prone to getting sick during winters because of their weak immune system. Minute mistakes on the end of parents can make the child sick. Following are the basic tips to keep in mind for the health of your little munchkin during winters.
Dress your child adequately. Make sure your child doesn't feel too cold or too warm. Use room heaters for a short duration to keep the room warm.
Dress your kid with thermals, sweaters and jackets depending upon the temperature.
Dress your infants in warm clothes that are soft. Soft clothes will avoid rashes. Cover your child well; do make sure she can breathe easily.
Make your child drink plenty of water to avoid dehydration. Children are care free and do not worry about things, hence they skip drinking water while playing. Give your child a water bottle whenever he/she goes out to play.
It is necessary to make your children wash their hands frequently and specially before eating. Use mild hand wash soaps to avoid drying up of the skin.
Ice creams, no matter how cold it is, ice creams tempt all of us. Do not allow your child to eat ice creams during winters or else you will be running after them to give them medicines for a running nose.
Avoid daily baths especially for infants.
Look for symptoms of shivering and running nose. Take your child to a doctor immediately.
Look for white spots on your child' body. It may be a sign of frost bites. Dip that part in warm water to sooth the frost bite. Keep your child covered in a warm blanket, and take her to the doctor immediately.
Consult your doctor before using any moisturiser; using the inappropriate one may lead to rashes and infections.
Do's and Don'ts of Health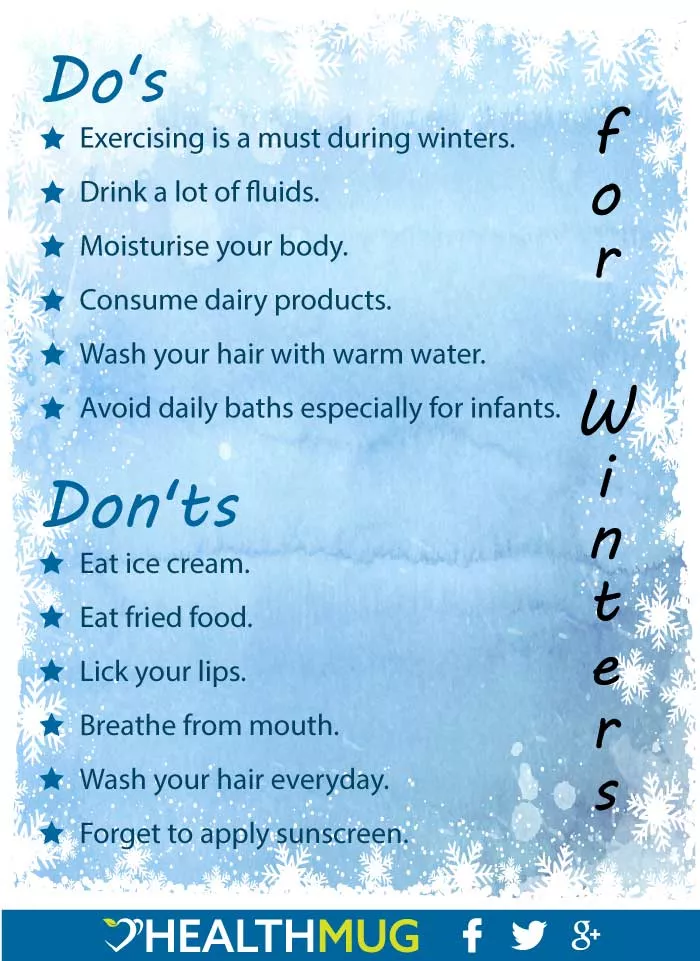 There are a lot of things that needs to be looked into for a healthy living during winters. Read on for some basic dos and don'ts.
Do's
Exercise! Exercising is a must during winters. I know getting out of the cosy bed and blanket is a hard task, but some physical activity should be done by all. Be it going out for a stroll, or playing a sport; make sure you do something physical.
Drink a lot of fluids, preferably water during the cold season. We end up drinking too many cups of tea or coffee during winters, which is not good for our health. So, drink lots of lukewarm water, add some lemon and honey if you feel like.
Moisturise! Moisturising your body should be a habit for winter season. We go out in the cold air, or we stay inside the house; moisturising should be done no matter what!
If you ask me, I would rather sleep the whole day and turn into a hibernating animal during the winters! Oversleeping is not good, and so in lack of sleep. Make sure you get at least 8 hours of sleep, so that you are active and fresh the next day!
Dress up in warm clothes. Your children should be given extra attention, as they are careless and always in mood for fun; so it is the parents' duty to keep them warm.
Eat healthy food! It's time to start eating those green leafy veggies to stay healthy during winters. Since we feel lazy all the time during winters, our body movements reduce. Eating fatty food will be tough to digest. Hence, start eating veggies during the cold season.
Milk and other dairy products. Consuming dairy products is very good for the health during winters as they are a good source of vitamins and calcium.
Don'ts
Don't eat ice cream. Some people enjoy eating ice creams during winter, but no matter how fun it seems to be, it is definitely not good for the health. Children should especially avoid ice creams
Don't use anti-bacterial soaps. We wash our hands many times a day so using anti-bacterial soaps make our hands dry and rough.
Don't eat fatty foods or fried food. During winters, our body tends to work less and hogging on some French fries will make it tough to digest.
Don't drink alcohol. It is said that drinking alcohol keeps you warm, but it is not so. It cools down your body temperature making you feel cold and you might even start shivering.
Do's and Don'ts of Hair during winters
No matter what we do, we end up making some silly mistakes which can be bad for our hair and scalp. Following is a list of Dos and Don'ts which all of us should keep in mind to keep our scalp and hair healthy during winters!
Do's
The most important thing to do in winters is to trim your hair at regular intervals of approximately one and half months. Trimming will help in getting rid of the dry and unhealthy portions of hair that lead to splits ends. This will also make your hair manageable and will reduce your struggle as well.
Wash your hair with warm water instead of hot water.
Deep conditioning of hair is a must during winters. Deep conditioning will not only soften your hair, it will also add the moisture that lacks during the cold months. So go outside and guy a good conditioner for your hair.
Always cover your hair with a silk scarf or a hat; this will avoid damage to your hair due to the winds. Moreover, your hair would be as static as earlier.
Massage your hair with oil to keep it moist and flake free.
Drink at least 8-10 glasses of water every day. Also try avoiding unhealthy foods as it affects the hair and scalp.
Don'ts
Avoid washing your hair every day. The cold harsh air during the winters lead to a loss of moisture in the scalp and hair; washing your hair regularly washes off the little bit of moisture that is left.
Avoid going outside with wet hair. Although going outside with wet hair is something none of would want to do; yet you need to make sure your hair is dry when you step out of the house. Wet hair becomes frizzy due to the cold air.
Even though hot water bath is relaxing during the winters, washing your hair with hot water will create a mess for you. The hot water tends to damage the hair; so avoid it.
Avoid going for hair treatments and using hair tools like curlers n straighteners. Tools like these leave the hair dry and rough, aggravating the situation during winters.
Avoid brushing or combing your hair a lot. Even if you wish to comb it, make sure you hold your tresses with one hand and then comb. This will give you an edge avoiding hair fall. Apply serum for a smooth combing.
Skin care
Dry skin is so disappointing during winters right? Don't worry; read the basic skin care tips to avoid dry skin this season.
Carry a moisturiser everywhere. Small containers of your favourite moisturiser are easily available in the market, so make sure you carry it at all times!
Avoid taking long hot water showers or baths. Hot water tends to wash off the little bit of moisture that is left; hence avoid long showers.
Avoid scrubbing or exfoliating your face during winters. The skin is already too dry, and scrubbing will lead to rashes on the face. So, avoid scrubbing, instead apply natural face packs that will cleanse and moisturise your face.
Avoid going outside in the sun for long durations. Even if you have to, then don't forget to apply sunscreen all over your body.
Drink lots of fluids throughout the day. Keeping yourself hydrated is a good way to avoid dry skin.
If you are confused about which skin care product to purchase, consider visiting a dermatologist. They are specialists and will analyse your skin type and advise you better on which skincare product to purchase.
Avoid using astringents and alcohol based cosmetic products. Alcohol tends to dry up the skin; hence it would not be a good idea to use alcohol based cosmetic products during winters.
Avoid using room heaters for long, it dries up the moisture in the skin.
Remove makeup before sleeping.
Lip Care
Following the basic tips to follow during winters for a healthy and chap free pair of lips!
Drink lots and lots of water! Make it a habit to lead a healthy life. Hydrated body means a hydrated pair of lips. Lips have the thinnest skin in our body, and hence signs of dehydration are first visible on our lips itself. So, get going you water girl!
Take a water bottle everywhere. Even if you're going to the near grocery store, carry a water bottle with you. Be it office, or a salon, or even for a walk; carry water with you. This will help in getting used to the drinking water habit.
Stay Indoors. Although it is impossible to stay indoors throughout the season just to keep your lips protected from the cold harsh air outside, but try not going out unnecessarily. The cold air tends to draw out the moisture from our lips and leave it dry. All that effort gone wasted!
Stop licking your lips. It so happens that we tend to lick our lips the moment it gets dry. So we lick, and again our lips get dry, we lick again; this creates a cycle. Our saliva gets evaporated, and with the saliva, some moisture also gets evaporated. So licking continuously will make your lips even drier.
Avoid mouth breathing. Just like licking lips leads to drier lips, breathing from the mouth also leads to dry lips. For many of us, winters are marked with blocked nose, which means mouth breathing. Treat you blocked nose as soon as possible so that you don't breathe from your mouth.
No Matte for winters! I know most of you would be breathing on that particular shade of matte lipstick, but for the sake of your sensitive lips, try using it les during winters. Matte lipsticks leave your lips dry, which is why it stays longer. Having chapped lips and applying matte lipstick is like a crime for the lips! So, avoid matte lipsticks as much as you can.
Exfoliate your lips. Who said exfoliation was only for the skin? Lip exfoliating is very important to get rid of the dead cells, which leads to chapped and cracked lips. Instead of using the easily available branded lip exfoliator, try using the natural homemade ones. Reason being, homemade exfoliators would not lead to any side effect, which the branded ones might contain acids, which would aggravate your lip situation.
Get the perfect lip balm. Choosing a perfect lip balm is also a hard task just like choosing a perfect face wash is! Try using lip balms that contains hydrating elements, instead of just the most famous or colourful one. Since most of us survive the season with a lip balm. It is important that you choose the correct and the most suitable one instead of a 'this is new in the market' lip balm.
Be careful while brushing your teeth. Make sure you do not leave the toothpaste on your lips for long, as the toothpaste irritates the most when our lips are chapped.
Apply lip balm before sleeping. This is a habit that everyone, be it men or women, should follow. Apply lip balm before washing your face as well.
Don't forget to remove your lipstick, matte or not, before sleeping. We don't our lips all dry when we wake up in the morning.