Aging is a natural process which cannot be reversed; there isn't any magic wand that can give you those black hair and wrinkle free skin instantly! But what if the aging signs are visible at quite a young age? Well, that's something we did not expect to happen! Premature greying of hair is becoming a major concern for people who are just in their late twenties. Now that is definitely not an age for grey hair! The roots of our hair are surrounded by pigment cells under the scalp. So, when these cells begin to die, our hair tends to start greying and gradually turn white. People in their late twenties and mid-thirties have started showing signs of aging due to grey hair. But what exactly are the causes of grey hair and can it be treated? Yes, there are a number of causes for grey hair which needs to be looked into. Also, there are a number of ways you can treat grey hair and get your shiny black hair again! Keep reading for easy ways to prevent grey hair!
Causes
You are in your late twenties and got grey hair already? Read on for some of the most common causes of premature grey hair!
It's in your Genes!
So let's start the blame game by blaming on our parents for premature grey hair while they might end up blaming their parents! It is scientifically proven that premature greying of hair is mostly genetic in nature. So if your parents experienced the same issues and spotted their greys early, chances are, you will do the same as well.
Health Conditions
Yes, your health condition affects your scalp as well. If you are suffering from major diseases or conditions like thyroid or diabetes, you might end up counting grey hair on your head!
Nutrition
All doctors across the globe say watch what you eat. Well, watching what you eat is not always associated with obesity and weight loss, but it has other reasons as well. One of them being grey hair! If you are fit and healthy, your hair too will show the signs. And this will also help in postponing the advent of the greys.
Stressed up!
Being stressed and under work pressure is a common feature for everyone, no matter what the age. It has been observed that people who stressed all the time and are under work pressure might start greying. Higher stress, higher negative effects on your health and body.
Smoking
Studies have proven that those who smoke stand four times higher chance of facing premature greying than those who don't. Try quitting this habit maybe?
Foods to eat
Nutritional deficiencies may also be one of the causes of greying hair. Providing proper nutrition to our body is necessary in order to maintain hair colour and to retain a healthy hair. Hence, it is imperative for us to choose healthy foods to prevent grey hair strands and promote healthy hair growth. There foods that prevent the premature greying of hair, while some accelerate the greying! So the food that you eat plays a very important role when premature greying is considered. Following is a list of food items that should be eaten to avoid or prevent the premature greying of hair.
Milk
Milk is rich in Vitamin B, Vitamins B-6 and B12 which are vital for the production of red blood cells. This promotes oxygen and nutrients supply to your scalp, which helps in avoiding the greying up of hair. Not just this, milk has various other benefits for hair as well. It is a very good natural conditioner and also treats dry and rough hair. The hair becomes soft and shiny by drinking or applying milk on hair.
Blueberries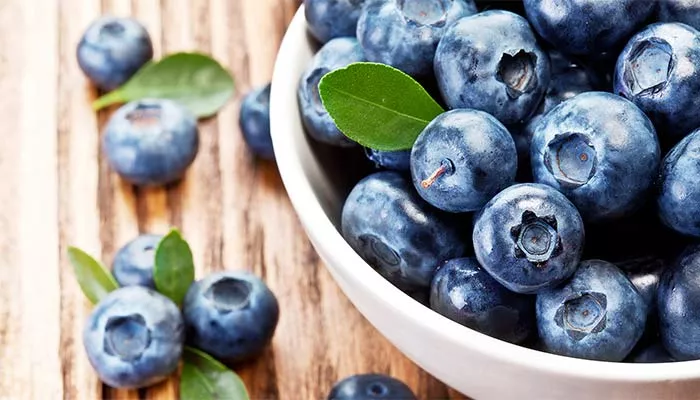 Blueberry turns out to be a superfood for both hair and skin. The components present in blueberries help a lot in hair growth and prevent greying of hair.
Amla
Indian Gooseberries, better known as amla is the best remedy for premature greying. Gooseberries are known to be beneficial in the prevention and treatment of grey hair. This is a valuable hair tonic for enriching hair growth and hair pigmentation. So eat amla for healthier and black hair!
Curry Leaves
Curry leaves are very common in India. These curry leaves are beneficial in preventing premature greying of hair. Curry leaves have the property of providing strength to hair roots. So, increase the consumption of curry leaves in your diet. Curry leaves can also be used to apply on the scalp, which you can read in the next segment.
Green Leafy Veggies
Oh how we used to hate green veggies in our childhood! Well, some of us still hate eating spinach, broccoli and other leafy veggies. But what if I tell you that by eating green vegetables, you can prevent greying of hair? Yes, fresh green vegetables are a natural source of Vitamins B6 and B12, which are needed to keep our hair healthy. Green leafy vegetables like spinach is said to be a good source of B vitamins. Incorporating leafy green vegetables into your diet will surely help get rid of grey hair.
Home remedies
Following are some of the most commonly used hair packs to prevent premature greying of hair.
Milk and Honey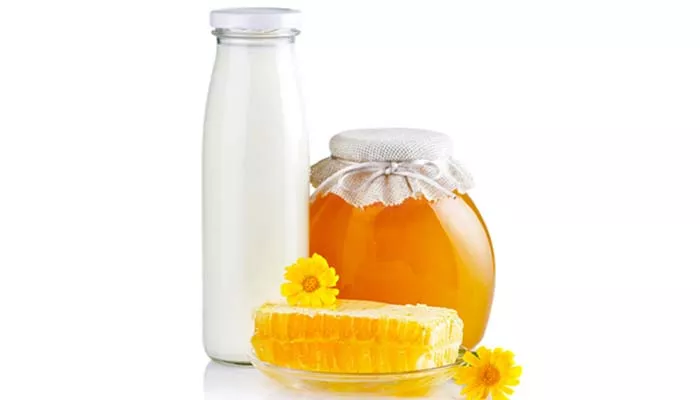 As mentioned above, milk is a superfood that helps in preventing grey hair! Both milk and honey are amazing for the hair as well. Milk contains nutrients and compounds that help in treating hair fall and grey hair. The most important benefit of milk for winters is that it treats the rough and dry hair. It strengthens the hair as well. On the other hand, honey adds moisture to the hair, which is a major concern considering the polluted environment. So what are you waiting for? Try out this amazing easy to make pack right now!
All you need is a cup of milk and 2-3 spoons of honey. Yes, it's that easy! Just mix the two ingredients and your pack is ready! Apply this mixture on your scalp and hair, and let it stay for an hour. Milk will soften those rough and dry strands and also add shine to it. Honey is like an added bonus for treating the dry hair, it also adds moisture to the scalp and hair; making it ready to face the cold harsh air. You can try it this pack twice a week. Make sure you rinse your hair with a mild shampoo, and not a strong one.
Curry Leaves
Curry leaf is one of the highly used herb in Indian households. It is the most effective natural grey hair solution. Vitamin B present in curry leaves restores the functions of the natural pigment in the hair follicles that provides a shining black color to the hair strands and prevents further greying of hair. It also supplies essential nutrients to the hair and heals damaged hair roots. It stimulates hair growth as well. We have all grown up applying coconut oil on our hair, only because it has great benefits! So let's combine these two ingredients for black and healthier hair. All you need to do is boil some curry leaves with coconut oil for about 5-6 minutes or till the leaves turn back. Let it cool and strain it in a bowl. Apply this mixture and massage your scalp and hair before going to bed. Make sure you use a mild shampoo to wash it off the next day.
Amla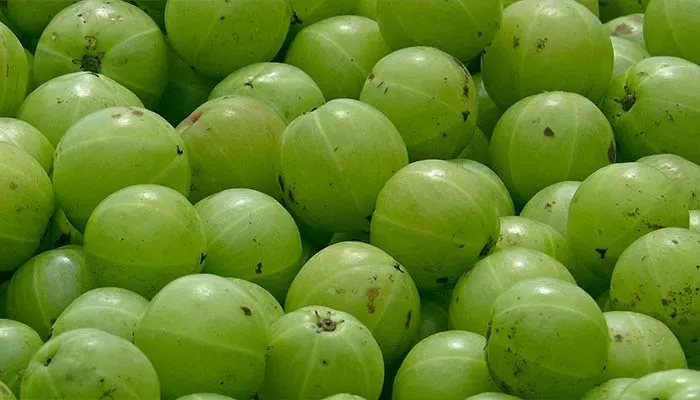 Indian Gooseberry or amla is an excellent remedy for treating premature grey hair. Eat it or apply a pack on your scalp, it works both ways. Amla helps to renew pigmentation in hair, which makes hair shinier, darker and thicker. So, amla not only turns out to be excellent for grey hair, but also for the overall health of scalp and hair. Now how to apply amla? Just like you boiled curry leaves with coconut oil, the same can be done with amla. Boil amla with coconut oil until it turns black. Then simply massage it on your scalp and hair and let it stay overnight. Wash off with a mild shampoo the next day. Eat amla or drink amla juce for added benefit for hair and also for your overall body health.
Fenugreek aka Methi
Fenugreek seeds can turn out to be miraculous for those who are tired of hair fall or hair loss and grey hair. Methi seeds contain compounds that stimulate the regrowth of hair tremendously and add some bounce to the hair. It strengthens the hair roots and manages hair fall, also it prevents your hair from turning grey prematurely! There are many ways you can use methi seeds for a hair pack. The easiest way is to soak some seeds overnight in water. Next morning just grind it; add a little water to give it some consistency. You can add some yogurt too if you wish to. Apply this paste over your scalp and hair; let it stay for about 20 minutes and then wash it off. With this pack, your dry and rough hair will be look after and you can freely go outside without any worries. Another way to use methi seeds is to simply grind the soaked seeds and add some mustard oil to it.
Amaranth
Most of us might not have heard of this vegetable, but our mothers and grandmothers are very well acquainted with this magical vegetable! Amaranth is loaded with antioxidants, vitamins, minerals and carbohydrates; it is one of the best foods for improving overall health. It is also effective for treating grey hair! The juice extracted from the leaves of amaranth contain a certain enzyme that helps in improving the level of melanin that prevents premature greying of hair and also restores the natural black color to grey hair strands. To use remedy, you need to catch hold of this leafy vegetable crush it properly to extract the juice. Make sure you wash the leaves properly before crushing. Now apply the juice on your scalp and hair while massaging in circular motions. Let it stay for 30-40 minutes and rinse off with water.
Lemon juice and almond oil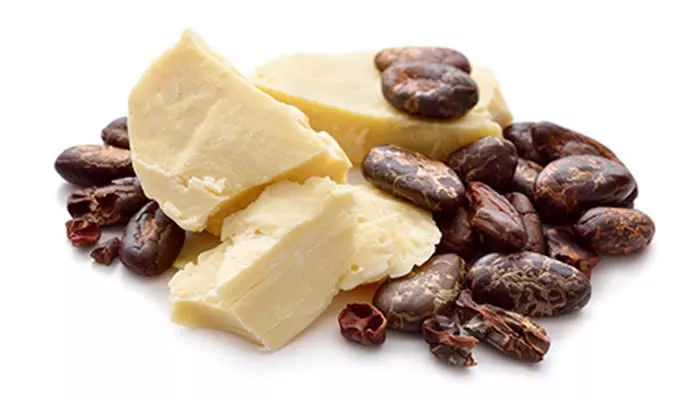 My mother keeps forcing me to apply almond oil on my scalp, because it contains a wide range of nutrition that is beneficial for a healthy scalp. Massaging scalp and hair with almond oil prevents premature greying of hair. It nourishes the roots of the hair, improves elasticity and prevents split ends. Lemon, as well helps in treating grey hair and also strengthens the root avoiding hair fall. For this remedy, all you need to do is mix 2-3 spoons f almond oil with a lesser proportion of lemon and juice. Now, gently massage your scalp and let it stay for about 30-40 minutes. You can wash it off with a mild shampoo after 30 minutes.
Henna
Henna is something that has been used for colouring the hair naturally since ages! Henna has a lot of benefits for healthy scalp and hair. It not only colours the hair naturally but also nourishes it giving you shiny, healthy and lustrous hair. The best way to hide those grey strands is to apply henna. The best way to use henna is to mix it with coconut oil and apply t on your head. Easy peasy! Henna also works well when soaked overnight and mixed with walnut pulp. This mixture not only helps in curing grey hair but also gives a shiny touch to your strands.
Basic Tips to Keep in Mind!
Well there are basic tips to keep in mind to prevent premature greying of hair!
Do not take a lot of stress.
Eat right!
Avoid drinking and smoking.
Use grey hair shampoo.
Keep oiling your hair at regular intervals.
Do not use harsh hair products
Get enough sleep
Stay positive and avoid brooding over petty issues
Above mentioned are some of the basic tips to keep in mind to prevent early greying of hair. So the next time you see a grey strand while combing your hair, pay attention to your lifestyle and start using these home remedies!